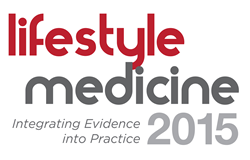 There is nothing else in all of medicine with the potential to advance the human condition as lifestyle medicine can. For anyone wanting to capitalize on that potential- this conference is the place to be.
Nashville, TN (PRWEB) March 11, 2015
Physicians and clinicians from across the U.S. and around the globe will gather in Nashville, TN, November 1-4, for Lifestyle Medicine 2015, the annual conference of the American College of Lifestyle Medicine. This year's CME accredited event will showcase leading experts in the field, emphasizing the use of lifestyle as a therapeutic intervention for prevention and, more importantly, the treatment and even reversal of chronic, degenerative disease.
"I'm honored to be joined by a line-up of keynote speakers who represent extraordinary professional accomplishment, and remarkable diversity- along with a shared devotion to lifestyle medicine," said ACLM President David Katz, MD. "Our field is exceptional in providing common ground to almost anyone involved in efforts to add years to life, and life to years."
2015 keynote speakers include:
Dan Buettner is an explorer, New York Times bestselling author, National Geographic Fellow and founder of Blue Zones®, a company that puts the world's best practices in longevity and well-being to work in people's lives—with a focus on optimizing the health environment instead of individual behavior change.
Frank Hu, MD, PhD, a member of the 2015 Dietary Guidelines Advisory Committee, is Professor of Nutrition and Epidemiology at Harvard School of Public Health and Professor of Medicine at Harvard Medical School and Brigham and Women's Hospital. Co-director of the Program in Obesity Epidemiology and Prevention at Harvard, he also serves as director of Boston Nutrition and Obesity Research Center.
David Katz, MD, MPH serves as president of the American College of Lifestyle Medicine, is the foundering director of Yale University's Yale-Griffin Prevention Research Center, the editor-in-chief of the Journal of Childhood Obesity, and is the founder of the GLiMMER Initiative and its True Health Coalition.
Dean Ornish, MD is the founder and president of the non-profit Preventive Medicine Research Institute, author of six books—all national bestsellers, including Dr. Dean Ornish's Program for Reversing Health Disease. Medicare has covered his therapeutic program of the same name, the first program scientifically proven to "undo" heart disease by making comprehensive lifestyle changes.
Shilpa Saxena, MD serves as Fellow and Guest Faculty of the Arizona Center for Integrative Medicine and faculty with the Institute for Functional Medicine. An expert in the lifestyle-based group visit medical model, she implements unique and effective practice management solutions, encouraging and inspiring both physicians and patients to regain the power to activate a transformation towards well-being.
Ellsworth Wareham, MD is a WWII veteran and centenarian from Loma Linda, California who retired as a cardiothoracic surgeon at the age of 74, continuing to train residents at Loma Linda University until the age of 95. He credits his longevity and health to the practice of healthful lifestyle practices, with an emphasis on a whole food, plant-based nutrition.
"No one interested in disease prevention or health promotion can ignore the salience of lifestyle medicine; it is, quite simply, the best medicine we have for the job," emphasized Katz. "Lifestyle interventions can also serve as alternatives to drugs and even surgery, saving money along with lives. There is nothing else in all of medicine with the potential to advance the human condition as lifestyle medicine can. For anyone wanting to capitalize on that potential- this conference is the place to be."
About Lifestyle Medicine 2015
Lifestyle Medicine 2015 is the nation's premier medical conference focused on lifestyle medicine—lifestyle in medicine and lifestyle as medicine. Set for November 1-4, 2015 at the Renaissance Hotel in Nashville, TN, this CME accredited event delivers impressive keynotes, evidence-based educational sessions, research posters, and ample networking activities. Attendees from across the nation and around the world will gather to learn about Integrating Evidence into Practice and lifestyle medicine as the foundation of a transformed healthcare system. Learn more and register at http://www.lifestylemedicine2015.org.
About the American College of Lifestyle Medicine (ACLM)
ACLM is a professional association of physicians and clinicians dedicated to the advancement and practice of Lifestyle Medicine as the foundation of a transformed and sustainable healthcare system. Lifestyle Medicine is a branch of evidence-based medicine in which comprehensive lifestyle changes (including nutrition, physical activity, stress management, social support and environmental exposures) are used to help prevent, treat and even reverse the progression of many chronic diseases by addressing their underlying causes. Visit http://www.lifestylemedicine.org.