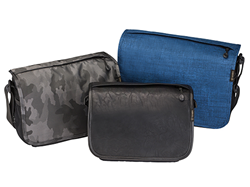 "Switch has everything a great camera bag needs, just in a smaller size" - Peter Waisnor, Vice President
North White Plains, NY (PRWEB) March 11, 2015
Tenba today announced Switch, the world's first customizable professional camera bag sized specifically for mirrorless cameras and accessories including lenses, flashes, and audio gear. The innovative bags include all of Tenba's hallmark features plus unique removable flaps that come in a variety of trendy colors and patterns to compliment any individual style. Choose from bold colors including Blue Melange, Pink Melange, Blue/Gray Geometric, Black/Gray Camouflage and Brick Red Faux Leather. The flaps include a silent, magnetic closure that allows for quiet, instant access. In addition, the flaps extend over the bag to provide weatherproof coverage at the corners, and small adjustable weather flaps for additional protection.The Tenba Switch puts commonly used photography items within reach for safe and instant access whenever needed.
Maximizing efficiency for photographers, Tenba Switch was created with the photographer's needs in mind. "All the excitement in the mirrorless world has been on the high-end cameras, but until now there hasn't been a true professional bag in terms of speed, durability and performance," says Peter Waisnor, Vice President of Tenba. "Switch has everything a great camera bag needs, just in a smaller size." These sizes include the Switch 7, 8, and 10. Switch 7 accommodates a mirrorless camera with 3-4 lenses. Switch 8 allows room for a mirrorless camera with 3-5 lenses, plus a tripod. Switch 10 provides the maximum amount of storage space with ample room for a mirrorless camera with 3-5 lenses or a DSLR with 2-3 lenses (up to 70-200mm f2.8), plus a tripod.
As with all of Tenba's collections, the Switch bags include durable nylon fabrics, the best YKK® zippers and snaps, a quick access top zipper, and a water and abrasion-resistant body armor base panel. Switch bags also include a reversible silver/black WeatherWrap™ rain cover to protect camera gear from harsh weather conditions, making it the ideal bag for travel.
About Tenba
Since 1977, Tenba has been making innovative carrying case solutions for professional photographers and filmmakers, and their full equipment arsenal. To find more information about the Tenba Switch, and to see a full video demonstration of all Tenba products, visit http://www.tenba.com