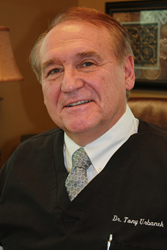 I honestly think this is a life-changing thing.
Brentwood, Tennessee (PRWEB) March 16, 2015
Many women across the country are struggling to ease the agony of unexplained headaches, neck and shoulder pain, and a Tennessee-based pain management doctor has the solution.
According to Dr. Tony Urbanek, 60-80 percent of people with TMJ (jaw joint) pain, or TMD (Temporomandibular Joint Disorder) don't even know they have it since the jaw joint is routinely over-looked as the cause of the painful side symptoms. He estimates the number of people dealing with TMD or TMJ related pain is actually close to 75 million people.
"Either you have it or someone you know has it," Dr. Urbanek says.
Dr. Urbanek has invented the Explain My Pain (EMP) Medical Device, which slightly separates the back teeth. When worn as directed, the device eases jaw inflammation that has been the cause of painful side symptoms, which can also include earaches, fullness or ringing in the ears, jaw pain, dizziness, and at times tingling in the arm, hand and fingers.
Over the past six years, Dr. Urbanek's EMP Medical Device has taken away the pain of more than 1,000 women, including Paula Zuccaro, who came to Dr. Urbanek in November 2014 for an unrelated tooth issue. After Dr. Urbanek diagnosed her with TMJ, she finally had an explanation for the pain she had been unsuccessfully treating with over-the-counter medication for years.
Zuccaro was fitted for the device and once in, relief was almost instant.
"I was very lucky to find him," Zuccaro says. "I wish I would have found him decades ago."
Patient Alex Day was just a senior in high school when she began experiencing piercing headaches. But when her jaw locked up, she sought the help of Dr. Urbanek and within days of wearing the device, all of her pain was gone.
"I honestly think this is a life-changing thing," Day says.
A double degree Oral and Maxillofacial Surgeon, Dr. Urbanek received his dental degree from Indiana University, his medical degree from Vanderbilt University, and he is board certified by the American Board of Oral and Maxillofacial Surgery. After finishing his medical training at Vanderbilt University, Dr. Urbanek opened his practice in 1981.