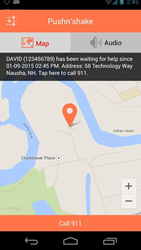 (PRWEB) March 12, 2015
The new Pushn'shake app for Android makes calling for help simpler than ever when dialing 911 is not possible or practical. With a single motion, users can easily and discreetly notify up to five pre-designated contacts of their location and the fact that they are in distress.
Pushn'shake is available now on Google Play for $0.99.
The brainchild of veteran police officer Mark Charles, Pushn'shake saves precious seconds in dire situations. The user need only shake the phone while holding the volume up or down button to activate it – even if the phone is locked, sleeping, or displaying a different app.
The user chooses up to five emergency contacts in advance. If those contacts also have Pushn'shake installed, they'll hear a siren tone and see the user's location on a map when the alarm is sounded. They'll also be given a button to call emergency services immediately, and receive audio from the user's microphone.
Contacts on any cell phone receive a text message with the same information, and all contacts are told your name, location, and phone number.
Several other functions increase the utility of the app:

Viewed By: The user is shown when contacts have acknowledged the alert.
Signal Flare: Location is automatically saved when the phone's battery level falls below 5%, when the GPS is automatically deactivated on most phones.
Heart Beat: An automatic monthly text message reminds the user of the app's functionality.
Pushn'shake can be configured to require up to five shakes to activate the alert. It also requires a PIN to cancel a false alarm, foiling any attacker who tries to deactivate the alert. The phone gently vibrates while it is broadcasting an alert.
"I'm a 25-year law enforcement officer," said Charles. "My concern was to be able to develop a way for anyone that was in trouble to be able to summon help with their mobile phone without having to get the phone open."
About the Developer
Zco Corporation is a tried-and-true software development company that has been living and breathing technology for over 25 years. A proven and reliable vendor choice, Zco is passionate in its mission to create attractive, resilient products for its clients. Its powerhouse team, one of the largest in the world, was handpicked for specialties in mobile app development, enterprise software, and animation services. To learn more, visit Zco.com or call 603.881.9200.