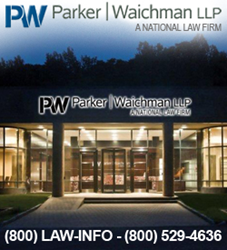 This verdict sends a clear message that device makers will be held responsible when they market products that are dangerous and defective.
Port Washington, New York (PRWEB) March 11, 2015
Parker Waichman LLP, a national law firm dedicated to protecting the rights of victims injured by defective drugs and medical devices, is commenting on the outcome of a bellwether trial involving a pelvic mesh lawsuit in California. Court documents show that a jury in Bakersfield ordered J&J to pay $5.7 million for injuries allegedly caused by Ethicon's TVT-Abbrevo pelvic mesh sling. The case is in the Superior Court of the State of California for the County of Kern; Coleen M. Perry, Plaintiff, vs. Hung T. Luu, M.D.; Johnson & Johnson, A New Jersey Corporation; Ethicon, Inc., A New Jersey Corporation; and DOES 1-60, Defendants; Case No.: 1500-Cv-279123 LHB; Assigned to the Honorable Lorna H. Brumfield; Reservation No.: 4676.
According to the lawsuit, the plaintiff was implanted with the TVT-Abbrevo in 2011; the pelvic mesh device is intended to treat urinary incontinence that occurs due to sudden movements. The plaintiff alleged that she suffered from pain and urinary problems after having the mesh implanted. This action was the first bellwether case brought over the device; the trial began on January 26, 2015, court documents show.
Parker Waichman continues to be contacted by individuals who have raised concerns regarding their use, or their loved one's use, of the pelvic mesh devices and alleged serious injuries.
Court records indicate that the Bakersfield jury found the mesh to be defectively designed and that Ethicon failed to adequately warn of the risks. The verdict consisted of $700,000 in compensatory damages and $5 million in punitive damages.
Parker Waichman LLP is involved in hundreds of cases pending across the United States involving various pelvic mesh devices that are alleged to have design and warning defects and that have caused serious injuries to women.
"We applaud the jury's decision in this case," said Gary Falkowitz, Managing Attorney at Parker Waichman LLP. "This verdict sends a clear message that device makers will be held responsible when they market products that are dangerous and defective."
Parker Waichman continues to evaluate pelvic mesh injury lawsuits brought on behalf of people who allege they developed significant, life-changing injuries following surgical implant with the devices. The firm also continues to actively monitor pelvic mesh litigation. If you or a loved one experienced complications following mesh-related surgery involving transvaginal mesh, pelvic mesh, and vaginal implants for pelvic organ prolapse (POP) or stress urinary incontinence (SUI), please visit the firm's Transvaginal Mesh Injury page at yourlawyer.com. Free case evaluations are also available by calling 1-800-LAW-INFO (1-800-529-4636).