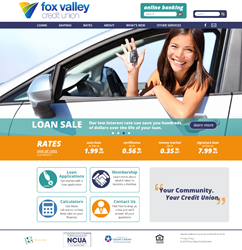 This new web site design for Fox Valley Credit Union positions them to compete with larger financial institutions in their area. We're happy to have helped level the playing field for them and look forward to continuing to help them thrive for many years.
Peru, IL (PRWEB) March 11, 2015
Fox Valley Credit Union (Aurora, IL) has recently revealed a new website featuring a cleaner, more contemporary look, along with a new menu and more intuitive navigation than its predecessor. The old website had many issues including a cluttered homepage, disorganized links, and banner ads that were difficult to edit and update.
The new web site can be found at https://www.foxvalleycu.com/.
Since their foundation in 1937, Fox Valley Credit Union has served the employees of Burlington Northern-Santa Fe and has grown by continuing to serve those who work or live in Aurora and North Aurora, Illinois. The next step in helping their members was redesigning their aging web site.
Two of the main issues that Fox Valley Credit Union wanted to address was congested navigation and a poor interface for mobile users. The credit union turned to LKCS, an agency with over 50 years of experience in credit union marketing. LKCS simplified the navigation and provided a mobile interface by developing the web site to be respond. A responsive site automatically configures the contents of the website to fit any size device in any orientation, so it is fully functional for both desktop and mobile users with smartphones or tablets.
Fox Valley CU also chose two tools from the LKCS Tool Suite. The first is a Banner Ad Rotation tool. This allows the CU to add, remove, pause, schedule, and reorder their home banner ads. The other is a Rate Control tool which allows the client to change all of the savings and loan rates from one central location.
About LKCS
Based in Peru, Illinois, LKCS is the leader in providing end-to-end marketing, graphic design, commercial printing, direct mail, web development, and statement processing services to financial institutions. Combined with over 50 years of financial marketing expertise, LKCS leverages the latest technologies and techniques to improve marketing results and return on investment for our clients. We do that. Additional information about LKCS can be found at http://www.lk-cs.com.