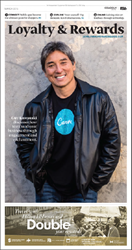 Over 78 percent of consumers are not loyal to a particular brand.
New York, NY (PRWEB) March 13, 2015
Mediaplanet today announces distribution of its latest edition of "Loyalty and Rewards," a cross-platform campaign dedicated to providing readers with information about the best customer rewards programs in the country. With 3.3 billion loyalty programs in the U.S. alone, consumers need to pick and choose to take advantage of the ones that suit them best.
The campaign features an exclusive interview with Guy Kawasaki, former chief evangelist of Apple and the mastermind behind Canva. He opened up with Mediaplanet about the changing role of social media and the importance of engaging the consumer directly with a unique product. He shares, "Social media is the best thing that ever happened to marketing because it is fast, free, and ubiquitous."
Over 78 percent of consumers are not loyal to a particular brand. This campaign seeks to explore not only the country's best loyalty programs, but also why consumers are enticed by them. "By limiting the number of cards in their wallets, consumers can increase their rewards and their opportunities," explains Dennis Armbruster, editor at large for COLLOQUY. "For consumers, the implications are greater than merely carrying around some extra plastic. If those reward programs are tied to unused credit cards, they risk becoming deactivated, which can ping a credit rating. If the consumer signs up for a non-credit card program simply for the enrollment offer, she has opted to share personal information in return for a one-time promotion. Hardly seems like a fair exchange."
The print component of "Loyalty and Rewards" is distributed within this weekend's edition of USA Today in Chicago, Dallas, Detroit, Los Angeles, Minneapolis, New York, Philadelphia, and Seattle with a circulation of approximately 450,000 copies and an estimated readership of 1.3 million. The digital component is distributed nationally through a vast social media strategy and across a network of top news sites and partner outlets. To explore the digital version of the campaign, click here.
This campaign was made possible with the support of the Guy Kawasaki, COLLOQUY, Loyalty360, Hilton Hotels, Rymax Inc., Best Western Hotels, Choice Hotels, Amtrak, Red Lion Hotels, Fairmont Hotels, General Motors, Hotels.com, Anthony Fioto, Kane Russell, Pawan Jaggi and many more.
About Mediaplanet
Mediaplanet is the leading independent publisher of content-marketing campaigns covering a variety of topics and industries. We turn consumer interest into action by providing readers with motivational editorial, pairing it with relevant advertisers, and distributing it within top newspapers and online platforms around the world.
Contact:
Joe Addona
joseph(dot)addona(at)mediaplanet(dot)com
646-922-1417