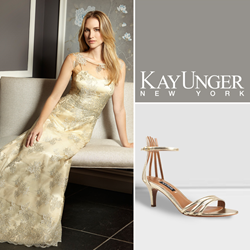 My aspiration is to design and craft beautiful timeless classics for the Kay Unger woman who is passionate, sophisticated, and has the essence of understated elegance. Kai Harrison, Designer
Carrollton, Texas (PRWEB) March 18, 2015
The Remac Group is excited to announce the spring launch of Kay Unger New York footwear collection. The shoes are now available in stores and on-line retailers. The brand partnered with better department stores such as Nordstrom's, Lord & Taylor, Dillard's and select specialty boutiques for spring.
The Kay Unger women's shoe collection redefines classic style. Coveted by women around the world, the label embodies elegance, style, and exquisite design. Drawing upon the unique aspects of the customer's lifestyle, the designer hand selects premium quality leathers, unique garment fabrics, exotics, and proprietary Kay Unger exclusive materials.
The collection features feminine and pretty styles that transition from day to evening. Women will find anything from signature sweetheart pumps to simple sexy stilettos that are easy to wear, versatile, and have classic clean lines.
The shoes are crafted in proprietary Kay Unger fabrics, highest quality leathers and materials at affordable prices. The signature breathable leather lining, memory foam innersole for cushion and comfort and the natural stained leather outsole all add to the luxury of the product. The shoes are available in medium and wide widths.
About Kay Unger New York:
The Kay Unger brand represents quiet, understated elegance and has been in the forefront of American fashion for over 20 years. Representing clothing for a wide range of special occasions, each collection includes glamorous evening wear, bold cocktail creations, and even demure day dresses. They are all fashioned with luxury fabrications that include exquisite detailing, signature fabric combinations, and original artistic prints. To add to the already substantial designer dress collection, Kay Unger shoes were launched in spring 2015.
.
About The Remac Group:
For over 35 years the Remac Group's J. Renee' brand has been a leading women's footwear and fashion accessories brand for classic and sophisticated women looking for style, value and comfort. Offering a wide variety of dress shoes, special occasion and bridal shoes, casual sandals, boots and accessories, J. Renee' includes extended sizes and widths to fit every customer. Bold colors and embellishments serve as the base for their signature style, alongside a bevy of exotic prints and leathers.
Last year Remac signed a licensing agreement with sophisticated fashion apparel brands, Kay Unger and Phoebe. The Remac Group most recently acquired the luxe comfort fashion label L' Amour Des Pieds which included patent pending comfort features.
The addition of Kay Unger, Phoebe and L'Amour Des Pieds embodies the Remac Group's mission of giving women more opportunities to feel fabulous.