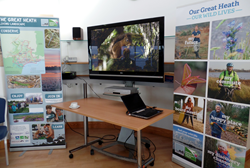 Poole, Dorset (PRWEB UK) 11 March 2015
Summer is just around the corner and people from all over the country will soon be flocking to the green pastures and calming blue waters of Dorset, on the South Coast.
From the rocky, prehistoric coastline of the Jurassic Coast in West Dorset, to the home of Red Squirrels, Brownsea Island in Poole Harbour, Dorset is abundant with some of the most beautiful natural areas in the United Kingdom.
These areas, and the wildlife that inhabits them, is kept safe and thriving through the hard work of the dedicated supporters and staff of Dorset Wildlife Trust. With over 70 members of staff and some 860 volunteers, working in 42 nature reserves and visitor centres across the county, Dorset Wildlife Trust is an integral part of looking after the natural environment enjoyed by many within the South.
Dorset Wildlife Trust was founded in 1961 to protect and conserve the wildlife and natural habitats of Dorset. Today the core aim of the trust has barely changed. Working in conjunction with Wildlife Trusts throughout Britain, Dorset Wildlife Trust promotes and sets up living landscapes, wildlife corridors and nectar-rich links. To create these corridors by connecting land and enriching wildlife habitat, Dorset Wildlife Trust is leading on the HLF funded project, The Great Heath Living Landscape, which will allow local people and visitors in urban areas to enjoy nature, knowing the land is managed for the benefit of wildlife.
Dorset Wildlife Trust recently promoted the work they do throughout the county, with an event that took place at the RNLI headquarters in Holes Bay, Poole. The event promoted the launch of the Holes Bay Nature Park, part of The Great Heath Living Landscape. To help give an insight into all that the charity do for the local area, there were two banners, supplied by the exhibition stand specialists Quadrant2Design. These banners are two, of a set of five, which were donated by the Poole based company as part of a project to give back to charities within the local community.
To find out more about Dorset Wildlife Trust, become a volunteer or to donate please visit http://www.dorsetwildlifetrust.org.uk.