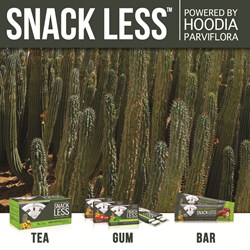 Desert Labs' Hoodia parviflora demonstrates both efficacy and safety in controlling appetite and weight loss.
New York, NY and Yotvata, Israel (PRWEB) March 17, 2015
Desert Labs Ltd. announces the publication of the study titled: "Efficacy and Acceptance of a Commercial Hoodia parviflora Product for Support of Appetite and Weight Control in a Consumer Trial" in the Journal Of Medicinal Food published February 2015 by Mary Ann Liebert, Inc.
The study demonstrated that for normal weight, overweight and obese individuals ingesting its Hoodia parviflora, there were significantly better results for loss in weight, waist circumference and Body Mass Index (BMI) as compared to the control group. Very obese individuals, with a BMI of greater than 35, did not show a significant improvement.
The company carried out the 40 day, single-blind, randomized and placebo-controlled trial in New York City. 103 volunteers completed the study to determine the efficacy of and tolerance for its Hoodia parviflora product. The process and results of the trial appear currently as a peer reviewed article and can be found on PubMed.
In the interim, the company has continued its research and product development and has self-affirmed 'Generally Recognized As Safe' (GRAS) according to FDA guidelines and an independent expert panel.
This represents a milestone in the company's 10 years of cultivating and researching Hoodia species and developing, producing and marketing food and dietary supplement products containing its Hoodia parviflora for the support of appetite and weight control.
Currently the company manufactures and markets its Snack Less products containing the only commercially available food-grade Hoodia parviflora in chewing gums, snack bars, herbal teas and capsules. Products are distributed in the United States, Russia and Israel.
About Desert Labs
Desert Labs is the world's leading Hoodia parviflora products company. For over a decade Desert Labs has combined advanced agro technical, medicinal plant research and consumer product development capabilities in its unique food, dietary supplements and diet aids.
For more information visit http://www.snack-less.com or call (800) 990-8065