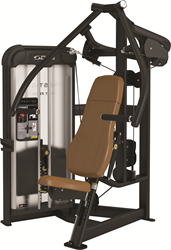 Prestige Strength VRS has been engineered to surpass other manufacturers' premium strength lines
Medway, MA (PRWEB) March 12, 2015
Today Cybex International Inc., a leading manufacturer of premium exercise equipment, unveiled their latest innovations in strength, cardio, and service.
In the strength category, Cybex introduced Prestige Strength VRS. This 21-piece line of selectorized strength equipment will provide a premium strength option for facilities seeking an exceptionally versatile, user-friendly strength solution for "walkup and workout" users. Visually striking, truly innovative, durable, and biomechanically correct, Prestige Strength VRS has been engineered to surpass other manufacturers' premium strength lines.
Prestige Strength VRS will be available in the spring of 2015.
In the cardio category, Cybex introduced the SPARC Trainer. The SPARC Trainer was designed to meet the soaring popularity of high intensity interval training, and is Cybex's quickest, safest, and most effective cardio experience ever. Delivering five benefits in four minutes, SPARC 1) burns calories, 2) strengthens and shapes the lower body, 3) increases stamina, 4) increases strength, and 5) enhances endurance – all while being biomechanically correct and gentle on the user's joints.
SPARC will be available in the summer of 2015.
Lastly, in the service category, Cybex introduced Cybex Care, a web-based asset management system designed to help gym owners save money, reduce equipment downtime, and manage machine usage. This truly useful feature will be available on all Cybex 500, 600, and 700 Cardio Series. To complement Cybex Care, Cybex is also introducing the Service Wheel, an easy to engage third wheel that allows gym staff to rotate, relocate, maintain, and clean treadmills – simply, safely, and quickly.
Cybex Care and Service Wheel are available now.
About Cybex International
For over 45 years, Cybex International, Inc. has been a leading manufacturer of premium exercise equipment. The Cybex product line, which includes a full range of strength, cardio and service solutions Is designed to be aesthetically striking, innovative in design, durable in structure, biomechanically correct – and most importantly – truly helpful to everyone from first-time gym members to professional athletes. Led by the Cybex Research Institute, Cybex is fiercely committed to real results and meaningful innovations delivered through a devotion to excellence and a dedication to science. Cybex designs and builds its products in the USA for a wide range of facilities, from commercial health clubs to home gyms, in more than 85 countries worldwide.
For more information on Cybex and its products, visit the company's website at http://www.cybexintl.com or follow them on Twitter, Facebook or Google+.