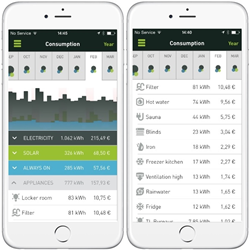 Enabling the user to gain visibility and control over a homes energy cost - saving as much as 12%.
Kortrijk, Belgium (PRWEB UK) 13 March 2015
Today, Smappee is introducing the world's first real-time itemised electricity bill, which measures dozens of appliances and their costs by gathering data directly from a home's main power line via a simple clip-on sensor.
With this new feature, Smappee makes a home's electricity costs transparent – without the need for a smart meter. Smappee customers will be able to use this itemised bill functionality within the app immediately to visualise appliance costs by day, month or year, customising the time frame based on the information they need most. Smappee can even forecast how much each appliance will cost by the end of the year.
Smappee's innovative solution merges energy monitoring and home automation, enabling the user to gain visibility and control over a home's entire energy cost – saving as much as 12% on electricity bills. The latest version of the app breaks your total bill down into the various appliances that Smappee has detected, opening the user's eyes for the first time to help them understand where energy goes within the home. This simple first step is critical in being able to manage and reduce unnecessary or standby electricity consumption, which can often be a black hole in the household budget. So whether a consumer wants Smappee to state how much the freezer is costing per year so that consideration can be given to trading it in for a new more energy-efficient model – or if they're looking for a cost-effective way to turn a home into a smart home – Smappee is the solution.
ABOUT SMAPPEE
Smappee develops innovative solutions that foster sustainable energy consumption. They offer people user-friendly, affordable and efficient ways to use less energy without sacrificing comfort. Under the slogan "Let's win", Smappee takes care that both the consumer and the environment win. Smappee is not only the name of the product, but also of the underlying company, founded in 2012 by Stefan Grosjean, an expert in the field of energy management. Mr Grosjean previously founded Energy ICT, which became a world leader in the field of energy management solutions for industrial and commercial companies, government authorities and energy providers. Smappee represents a desire to apply his experience to the benefit of consumers as well. Smappee received the Henry van de Velde Label 2014 for the qualitative design of the product and app and was named "Deloitte Raising Star 2014" for innovation and market potential of the company.
Smappee solutions are available via http://www.smappee.com, and via Apple online stores.