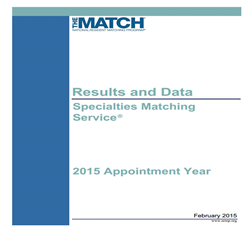 The SMS continues to grow, with more than a dozen new specialties joining in the last few years alone. - CEO Mona M. Signer
Washington, D.C. (PRWEB) March 11, 2015
The National Resident Matching Program® (NRMP®) announces the release of "Results and Data Specialties Matching Service, 2015 Appointment Year", an annual report summarizing all physician Fellowship Matches that participate in the NRMP's Specialties Matching Service (SMS®). Data are provided for Matches conducted in 2014 and early 2015 for appointments beginning July 2015. The report also includes five-year trend data by specialty on numbers of programs, positions, and applicants as well as match rates.
Participation, program fill, and match rates for the 2015 appointment year exceeded those in 2014. For the 2015 appointment year, the SMS encompassed more than 3,600 programs across 56 specialties offering more than 8,500 positions. Nearly 90% of those positions filled, and 80% of programs filled all positions. More than 9,500 applicants participated in at least one Fellowship Match, with 78% obtaining a position.
"The SMS continues to grow, with more than a dozen new specialties joining in the last few years alone," said NRMP President and CEO Mona M. Signer. "The 2015 appointment year was the largest in SMS history, and we are pleased to be able to provide this valuable data to our constituents."
The statistical tables and data graphs included in the report highlight six applicant groups, including graduates of U.S. allopathic and osteopathic medical schools and U.S. citizen and non-U.S. citizen graduates of international medical schools. The report also includes a state-by-state breakdown of participating programs, with the number of positions offered and filled for each.
Fellowship Matches occur throughout the year and positions generally begin in July of the appointment year. Because Fellowship Match appointments begin anywhere from 6 to 17 months after their Match Days, data are reported for the appointment year instead of the Match year.
The NRMP Match
The Match uses a computerized mathematical algorithm to align the preferences of applicants with the preferences of residency program directors in order to fill training positions available at U.S. teaching hospitals. Research on the NRMP algorithm was a basis for awarding The Sveriges Riksbank Prize in Economic Sciences in Memory of Alfred Nobel in 2012.
About NRMP
The National Resident Matching Program® (NRMP®) is a private, non-profit organization established in 1952 at the request of medical students to provide an orderly and fair mechanism for matching the preferences of applicants for U.S. residency positions with the preferences of residency program directors. In addition to the annual Main Residency Match® for more than 40,000 applicants, the NRMP conducts Fellowship Matches for more than 50 subspecialties through its Specialties Matching Service (SMS).
###