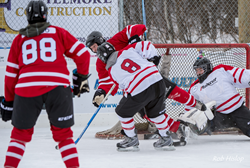 We're very proud to have raised a truly impressive amount of money for this cause. We give thanks to Bill Gammel and 3xLOGIC for helping us make sure we have a video record of this achievement to enjoy for many years to come. Brent Saik, Event Organizer
Westminster, Colorado (PRWEB) March 11, 2015
3xLOGIC, Inc., a leading provider of integrated intelligent security solutions, today announced that "The World's Longest Hockey Game" is in the history books and it was all documented with a donated 3xLOGIC 180-degree IP camera recorded to a 3xLOGIC VIGIL server. Austin Security & Surveillance of Edmonton, Alberta in Canada facilitated the use of 3xLOGIC equipment and handled the installation and operations duties.
From February 6th through the 16th, 40 brave, amazing hockey players challenged the Guinness World Record to achieve the rights as titleholders to The World's Longest Hockey Game. During this 10-day game, players, referees and volunteers raised money for the Alberta Cancer Foundation to support the purchase of a new PET-MR for the Cross Cancer Institute in Edmonton.
Since 2003, the World's Longest Hockey Game has raised more than $2.1 million dollars to pioneer revolutionary projects in support of patients at Alberta's own Cross Cancer Institute and beyond. Thanks in large part to funds raised by this event, researchers at the Cross Cancer Institute have expanded the boundaries of knowledge in cancer research, treatment, prevention and patient care in Alberta and across the globe.
Bill Gammel, of Austin Security & Surveillance in Edmonton and a registered 3xLOGIC dealer, contacted 3xLOGIC just a few days before the events' start. "We realized if we were going to do this right and get the coveted Guinness designation, we would need proof, but the proof would happen over 10 long days!" Gammel explained. "So, I contacted my colleagues at 3xLOGIC and within 72 hours they had shipped the equipment we needed to make a legitimate record of this great event."
The recently-concluded game has raised $1,064,730.92 to date this time around. Dr. Brent Saik is the founder and leader of the fundraiser, "We had another memorable, just incredible game. The longest hockey game in the world right here in Edmonton. It's a lot of fun for the players and for the fans, and at the end of the day, we are very proud to have raised a truly impressive amount of money for this important cause. We give thanks to Bill Gammel and to 3xLOGIC for helping us make sure we have a video record of this achievement to enjoy for many years to come."
About 3xLOGIC
A leader in the Security industry for more than 15 years, 3xLOGIC is known for providing complete, easy-to-use surveillance solutions that seamlessly integrate audio, video, and disparate data such as Access Control, ATM, Point-of-Sale (POS), etc. 3xLOGIC's video surveillance solutions are engineered for scalability and are remarkably simple to install, use and service. Employing the latest advances in NVR, VMS, IP camera, analytic, cloud, and now access control technologies, 3xLOGIC delivers high-value business intelligence anywhere, anytime and from any device. For more information about 3xLOGIC, please visit our website http://www.3xlogic.com.
For Media Queries:
Bruce J. Doneff
Public Relations
843.476.3022
Doneff(at)verizon(dot)net
For 3xLOGIC:
Wendi Burke
Senior Director of Marketing
720.945.7966
wendi.burke(at)3xlogic(dot)com
###