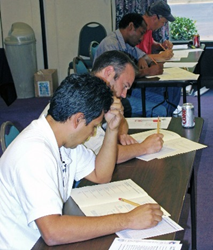 "If it weren't for my ETA Fiber Optics certifications, I doubt if I would have the job I do now (Network Operations Technician at Raytheon)," Robert Thompson, FOT, Bellevue, NE
Greencastle, IN (PRWEB) March 12, 2015
ETA International will have test proctors available the entire week of Education Forum at IWCE for all ETA certifications. Exams will be proctored at the attendees' convenience. Schedule exams in advance and pre-pay by calling Michele Altman at ETA at 800-288-3824 or at maltman@eta-i.org. Exams may also be scheduled and paid on-site.
ETA's Annual Education Forum for 2015 is co-located with IWCE. ETA-approved training providers will conduct hands-on training courses that will prepare attendees to take the related ETA technical certification exam. ETA Training Workshops are separate from the IWCE registration packages. Register today and select from the 'A-La-Carte' menu.
Training workshops include:

Fiber-to-the-Antenna by Tommy Bonner, Ph.D
Fiber 1-2-3 by Light Brigade
Interference Hunting by Dover Telecommunications Services
Distributed Antenna Systems by Dover Telecommunications Services
General Communications Technician, levels 1 & 2, by Ira Wiesenfeld & Associates
Basic Electronics by Fred Weiss, CET
ETA has had a steady presence at IWCE in past years, offering certification testing and partnering on IWCE's student Job Training and Education Center. This is the perfect opportunity to meet recruiters and explore the job market in wireless communications.
ETA and IWCE also partner to offer an annual scholarship for an ETA student member to attend IWCE. This year's winner is Christopher Olejniczak, CETa, GCT, MCEI, a recent graduate of DeVry University in Addison, IL.
IWCE's conference program is bigger than ever before since it co-located with ETA's Education Forum. It includes five days of workshops, training and short courses. Over 360 exhibitors will display their newest products. Meet with vendors face-to-face and test those products out in person. Three keynotes, two general sessions, Town Hall Meetings and IWCE's Party in the Park are FREE to all attendees. Use promo code 'SM9' for discounts.
About Electronics Technicians Association (ETA) International:
About ETA: Since 1978, ETA has issued over 150,000 professional certifications. Widely recognized and frequently used in worker job selection, hiring processes, pay increases and advancements, ETA certifications are often required as companies bid on contracts. ETA certifications are accredited through the International Certification Accreditation Council (ICAC) and align with the ISO-17024 standard. ETA's certifications are personal and travel with the individual, regardless of employment or status change and measure competencies of persons, not products or vendors. http://www.eta-i.org
About the International Wireless Communications Expo (IWCE):
Since 1977, the International Wireless Communications Expo (IWCE) has been the authoritative annual event for communications technology professionals in the working world. IWCE features over 350 exhibitors showcasing the latest products and trends in the industry. Over 7,000 technology buyers attend from a diverse group of industry professionals including government/military; public safety (law enforcement, fire service, emergency medical & 911); utility; transportation and business enterprise. http://www.iwceexpo.com
Download this press release at –
http://www.eta-i.org/pr/ETA_will_Proctor_Technical_Certification_Exams_at_International_Wireless_Communications_Expo.pdf
# # #