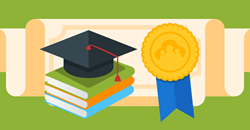 ...we hope that we can contribute in some way to nurturing new talent within the industry...
San Fransisco, CA (PRWEB) March 19, 2015
According to GetApp's independent research, more than 70 percent of US students claim to have had an idea for an app that could improve business, but only slightly more than 15 percent feel like they would have the financial means to turn their idea into reality. GetApp, the largest cloud-based business apps marketplace, aims to break down this financial barrier with their 2015 scholarship program.
The scholarship is offering US-based students the chance to win a total of $5000 in scholarship prize money– broken down into $3000 for first prize, $1500 for second prize, and $500 for third prize— to go towards paying for their education. For students to be considered, they must submit a 500-word essay responding to one of two possible questions:
1) Describe a situation where apps and technology have positively affected the relationships between a business or employee and a business or customer.
2) Explain an idea for an app that they believe would change and improve the way business is conducted.
Christophe Primault, co-founder and CEO of GetApp, says, "Business technology is no longer just for technology businesses. GetApp has seen first-hand how apps and technology can aid growth, facilitate processes, and greatly improve communication within businesses. With this scholarship program, we hope that we can contribute in some way to nurturing new talent within the industry, talent that perhaps otherwise would not surface due to the financial constraints that students often face. From our own research, we've seen that ideas are plentiful and that today's students are thinking more and more about tomorrow's technology."
Eligible applicants– United States Citizens who are either high-school seniors who have been accepted to an accredited university, or who are currently enrolled in an accredited university– must submit their application and essay by April 30th, 2015, 11:59pm PT. The winners of the scholarship contest will be chosen based on a score combining four criteria: GPA (30%), originality and creativity (30%), novelty of the idea (20%), and relevance to the topic (20%).
More information about the scholarship can be found here.
Full survey details:
Answers to the question "Have you ever had an idea for a business app or software that could improve business?"
Yes: 70.2%
No: 29.8%
Answers to the question "Do you feel that you could afford to create your app idea?"
Yes: 15.6%
No: 84.4%
Demographics: 2000 US-based male (60%) and female (40%) respondents from a panel of students between the ages of 18 and 25.
More about GetApp: GetApp is an online marketplace for cloud-based business apps, specializing in helping small and medium-sized businesses find, research, and get in touch with business app providers from over 100 software categories. GetApp's Europe office is based in Barcelona, Spain, and the US office is in San Francisco, CA.