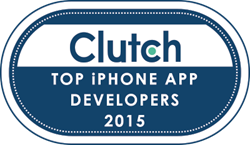 WASHINGTON (PRWEB) March 12, 2015
Research firm Clutch has named Mobisoft Infotech a market leader in iPhone app development.
Clutch's mobile app developer research is highly competitive and involves an in-depth review of each company's focus areas and ability to deliver. Analysts evaluated relevant case studies, portfolio items, client lists, indicators of market presence, and client references to determine the top iPhone app development firms, including Mobisoft.
One item that allowed Mobisoft to stand out in the market is its new JumpSTART program, which helps startups implement early stage online marketing for their mobile app. As a Google Cloud and Amazon Web Services partner, Mobisoft is able to set up clients for success with mobile app marketing and user acquisition.
Another key element of Clutch's research is client references. Clutch interviewed several of Mobisoft's client references to validate the quality of work delivered. Mobisoft's full reviews and project descriptions were published as case studies and are available online, along with a profile detailing the company's iPhone app development services.
One of Mobisoft's mobile app clients that spoke with Clutch is a Rice university professor of bioengineering and chemistry. Mobisoft partnered with the professor to develop an innovative medical app on iOS and Android to track and gauge heart health. He gave 5 out of 5 stars when asked to rate their overall experience working with Mobisoft. The client told Clutch, "They've opened up some doors for us here. Overall, I'm very pleased with the interaction. What they delivered works and it looks very professional."
Mobisoft has also recently proven itself in the medical and safety industry as the only mobile app development company that is an Associate Member of the Governors Highway Safety Association (GHSA.org). Mobisoft has developed mobile apps for law enforcement and crash analysis that contribute to improving traffic safety.
As Mobisoft looks to the future of mobile app development, the company has begun offering Apple Watch application development services in preparation for the Apple Watch launch in April.
Clutch's effort to identify leading mobile app development companies is ongoing, and the firm encourages companies to apply to participate in future research updates.
About Mobisoft Infotech
Mobisoft Infotech is a Houston-based award-winning company that helps Enterprises, SMEs and startups achieve their business goals by defining their mobile-based business initiatives and helping them reap benefits from the latest technologies.
A leading mobility solutions expert, Mobisoft Infotech has more than 5 years of experience backed by a highly motivated team of 160+ technology experts; it has committed to delivering end-to-end solutions in mobile strategy, UI and UX design, app development, web-cloud solutions and large-scale deployments across platforms and business verticals.
About Clutch
Clutch is a Washington, DC-based research firm that identifies top services firms that deliver results for their clients. The Clutch methodology is an innovative research process melding the best of traditional B2B research and newer consumer review services. Clutch's proprietary framework, the Leaders Matrix, maps firms' focus areas and their ability to deliver on client expectations. The firm has researched and reviewed 500+ companies covering 50+ markets.
Contact
Natalie Beach
202-568-6478
natalie(at)clutch(dot)co