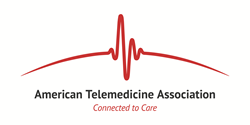 Washington, DC (PRWEB) March 11, 2015
The American Telemedicine Association (ATA) has awarded its first Accreditation for Online Patient Consultations to Amwell, a healthcare service provided by American Well. In its first two months of operation, over 200 organizations have registered for the ATA program. Several other accreditation announcements are expected later this month.
The ATA accreditation program recognizes U.S. healthcare entities providing real-time, online consultations directly to the patient that meet specific standards. Designed by experts in the field, ATA's Accreditation Program for Online Patient Consultations has been developed to establish standard criteria regarding the security of patient information, transparency in pricing and operations, qualifications and licensing of providers and clinical practices and guidelines.
In addition to providing consumers with a sense of security, ATA's Accreditation Program for Online Patient Consultations provides benchmarks for organizations building an online practice, and also provides reassurance for payers that the virtual services they are reimbursing are safe and of high quality.
"In an age where the average consumer manages nearly all aspects of life online, it's a no-brainer that healthcare should be just as convenient, accessible and safe as online banking," said Jonathan Linkous, CEO of ATA. "This program ensures that online healthcare services are following the necessary standards, guidelines and laws to provide safe care to American consumers."
"This is an important step for telehealth," said Roy Schoenberg, MD, CEO of American Well. "ATA's Accreditation Program is establishing an industry-wide standard for patient safety and service transparency. We believe that this is critical to the delivery of quality telehealth and are honored to be included in this accredited group."
Amwell will be clearly listed on SafeOnlineHealth.org, a resource to help consumers better understand the growing use of telecommunications in the delivery of healthcare services. In addition, visitors may learn more about online healthcare and browse accredited services.
About the American Telemedicine Association
The American Telemedicine Association, a non-profit 501(c)(3) organization, is the leading resource for the delivery of healthcare using telecommunications technologies. ATA and its diverse membership of medical institutions, professionals and healthcare and technology companies work together to guide the use of telemedicine to improve quality, equity and affordability of healthcare throughout the world. Established in 1993, ATA is headquartered in Washington, DC. For more information, visit http://www.americantelemed.org.