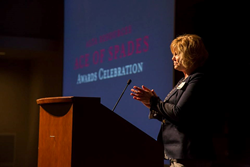 We are a results-oriented organization. We have a Guiding Principle that is all about results, for both the clients we serve and us as a company. Our ACE program is a shining example of how we deliver results, and it is designed to recognize that
Neenah, WI (PRWEB) March 12, 2015
Alta Resources, a global provider of customer management business process outsourcing (BPO) for Fortune 500 brands, recently announced its ACE of Spades recipients for the 2014 calendar year.
Alta Resources' ACE program recognizes those employees who deliver exceptional Alta Customer Experiences. The program has three levels of recognition: ACE of Diamonds, ACE of Hearts and ACE of Spades. The latter is the highest honor in the program and, as a result, is annually bestowed upon the top performers across Alta Resources' service lines (i.e., care, sales, e-commerce, fulfillment and back office).
Lisa Schulze, vice president of human resources at Alta Resources, said, "We are a results-oriented organization. We have a Guiding Principle that is all about results, for both the clients we serve and us as a company. Our ACE program is a shining example of how we deliver results, and it is designed to recognize that."
To achieve an ACE of Spades, an employee must satisfy predetermined metrics for the service line in which his/her job role falls. Employees must maintain their performance throughout the year and, at year's end, be in the top-seven percent per service line across the entire organization, which has locations in Neenah, Wisconsin; Brea, California; Fort Myers, Florida; and Pasig City, Philippines.
Every year, those recognized are invited to a private, off-site event, which includes a reception and a banquet. Alta Resources' senior leaders are present to give remarks and lead a special ceremony. Attendees also receive a token of appreciation and a certificate commemorating their achievements. In Wisconsin, the ACE of Spades recipients recently came together at the Warch Campus Center on the grounds of Lawrence University in Appleton, March 4, 6:00 p.m.
Those recognized in Wisconsin are as follows: Michelle Barden, Kyle Bikowski, Kari Bowen, Paula Diedrich, Thomas Dorow, Ben Dvorachek, Amoya Espeleta, Jami Foote, Andrew Fritsch, Nicole Granato, Diann Hildebrant, Amy Hoeper, Tynah Hunt, Denise Johnson, Gina Kasdorf, Michael Keesler, Jennifer Kerzisnik, Nicole Killian, Lori Koeller-Sapp, Susan Krahenbuhl, Susan Lamprich, Christina Lichtfuss, Jacob Luetschwager, Amanda Lynch, Melanie Madrigal, Tosh Marthzahl-Shanahan, Sarah Martin, Stephanie Navarro-Rogers, Rebecca Nichols, Tyler Nueman, Kristin Oshefsky, Jennifer Perry, Ryan Pfister, Karen Plato, Susan Rogers, Lisa Rosenmeier, Katie Rosenthal-Mayer, Thomas Ryan, Elisa Smith, Tamra Sutphen, Christina Tonies, Kcrista Treder, John Van Heeswyk, Jae Volser, Nichole Wikel and Lori Wolfert.
Schulze added, "Congratulations to this year's ACE recipients. Our company's unprecedented expansion has made being among the best more challenging than ever. But our people continue to rise to the challenge; excel; and, because of their hard work and top-notch performance, put Alta Resources in a position to continually grow through the results that they provide for some of the biggest brands in the world."
Part of the growth that Schulze mentioned are Alta Resources' recent gains, such as continued employment opportunities through expanding client programs and new-client wins, in addition to major developments in its health care & insurance vertical and companywide facilities enlargement — all part of another record year.
About Alta Resources
Formed in 1995, privately held Alta Resources is a leading provider of customer management business process outsourcing (BPO) for many of the world's best-known brands in a variety of industries, including consumer-packaged goods (CPG), health care and insurance, and entertainment. With its comprehensive service lines — care, sales, e-commerce, back office and fulfillment — working in tandem, clients can seamlessly integrate their core business processes through a single partner. In turn, Alta Resources helps clients improve and better manage their customer experiences across every touch point, online and offline, ultimately delivering results that provide sales growth and/or cost savings.
With headquarters, a main campus and a fulfillment facility in Neenah, Wisconsin, Alta Resources has additional operations in Michigan, California, Florida and the Philippines. To learn more, visit AltaResources.com.