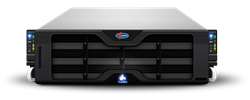 San Jose, CA (PRWEB) March 12, 2015
The TrueNAS 9.3 release features improved virtualization support with the addition of new VMware VAAI primitives. The newly added VAAI Block primitives include Write Same Zero to save resources on writes, XCOPY which reduces VM deployment time by having TrueNAS perform large data transfers, and Atomic Test and Set, which increases the number of VMs you can place on a datastore backed by TrueNAS. Also supported is the SCSI UNMAP command, which is used to recover capacity when a VM is moved or deleted.
Also added is support of VMware's Warn and Stun Thin Provisioning primitives, which if a thin-provisioned datastore reaches 100 percent usage, only those virtual machines requiring extra storage space are paused; those not needing additional space continue to run. After additional space is allocated or existing space returned to the thin-provisioned datastore, the paused virtual machines can be resumed. Together, these primitives and others already included make TrueNAS better than ever for backing VMware deployments.
Additionally, TrueNAS 9.3 supports Cluster Shared Volumes (CSV) and Windows 2012 R2 clustering, as well as Microsoft ODX (Offloaded Data Transfers) to speed up server copy and move operations. Every TrueNAS appliance is now certified for Windows Server 2012 R2. Certification used the Microsoft testing suite, ensuring peace of mind for all users of Windows technology, including Hyper-V users, that all features will be supported.
"TrueNAS 9.3 is, without question, the best release we have ever done," says Jordan Hubbard, CTO of iXsystems. "New features like ZFS boot environments, cryptographically signed "live updates", NFSv4, new Directory Services, and WebDAV are worth the price of admission alone, but performance has also significantly improved with a complete rewrite of our iSCSI stack and hundreds of additional performance enhancements. Security has also been a high priority in TrueNAS 9.3, with support for Kerberos and a new Certificate infrastructure, along with dozens of sub-component updates to address numerous CERT advisories. We are very proud of the work that has gone into this release and the many contributions from the FreeNAS community that have directly benefitted the quality of this TrueNAS 9.3 Release."
Existing features were also improved. Active/Standby High Availability now supports encrypted ZFS pools as well as unencrypted ones, extending support for disk encryption to mission-critical data. The Web User Interface now offers integration with the TrueNAS Support ticketing system, further decreasing time-to-resolution of issues by expediting the initial communication. Finally, most updates to the web user interface will no longer require a reboot to apply, improving the update experience for HA and non-HA systems.
Jeremy Curtis, Senior Engineer at Dataedge, states, "iXsystems has been great to work with during our TrueNAS deployment. The upgrade to TrueNAS 9.3 has been seamless. The ability to check for updates and perform them automatically or manually and the new automatic ticketing system (which makes it even easier to file tickets when needed) are great additions to TrueNAS. Furthermore, we're looking forward to using the VMware enhancements."
For more information about TrueNAS, visit http://www.ixsystems.com/storage/truenas/ or email sales(at)iXsystems(dot)com.
About iXsystems, Inc.
iXsystems is an industry leader in Open Source software and hardware, driven to design enterprise storage and server solutions for companies that leverage Open Source Technology. All products are designed, assembled, tested, and shipped from company headquarters in Silicon Valley, and technical support is provided in-house by the same engineers that build the systems. Thousands of companies, universities, and the U.S. Government have come to rely on iXsystems' customer-first commitment to excellence. iXsystems champions the cause of Open Source technology by dedicating extensive resources to multiple Open Source community projects, including FreeNAS®, PC-BSD®, FreeBSD®, and OpenZFS.