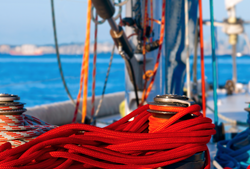 The Chance to Meet the 2015 Best Boating Community of the Year
Wilmington, North Carolina (PRWEB) March 12, 2015
The 6th Annual Oriental Boat Show soon will showcase the boating lifestyle of North Carolina's Inner Banks in Oriental North Carolina. The show takes place April 10th-12th at the Oriental Harbor Marina on the Neuse River about an hour north of historical New Bern and two hours north of Wilmington. Whether the families boating pleasure is power, sail, fishing or paddling, with approximately 90 exhibitors, it's all covered at the show. It's a great place to shop for a boat, nautical gear and accessories and anything folks need to enjoy the local waterways. Nicknamed the "Biggest and Best-Ever Small Town Boat Show", the Oriental Boat show features several seminars aimed at teaching attendees many different aspects of boating. Among the topics covered are:
"First Aid on the Water" presented by Mac Rubel, EMT Pamlico Rescue
"Using Your Camera Effectively While Boating" presented by photographer Ben Casey
"Weather for Mariners" presented by John Cole NOAA, Newport, NC
"Tips on Cruising Coastal Waters" presented by Claiborne Young Cruising Guide Author
"What to Expect When Boarded by the Coast Guard" presented by US Coast Guard Station Hobucken
A wooden boat exhibition is a very popular part of the show. It includes newly built and restored wooden boats. Voting by patrons and exhibitors takes place on the first and second day of the show. Prizes will be awarded Saturday afternoon.
Last year, the boat show drew 90 exhibitors of nautical goods and services. Dealers and brokers bring boats that fill the land and the slips at Oriental Harbor Marina – making many of the boats available for sea trials. The Boat Show is sponsored by the Oriental Rotary Club as a fund-raiser for its scholarship program that enables deserving local students to further their educations after high school.
Oriental North Carolina is a great choice to host this boat show. The town is known by sailors as the midway point between New York and Florida when traveling along the Intracoastal Waterway. Oriental is home to regattas, sailing clubs, fishing, and more events than seem possible in a small town. With just 875 residents and over 2,700 boats, it's obvious how Oriental earned its title of "The Sailing Capital of North Carolina."
Pamlico Sound real estate is known for warm coastal breezes and mild year round temperatures. There is always something to do. There are boating activities of all kinds, waterfront restaurants and an active arts community. Living in Oriental means folks are ready to kick back, relax and enjoy their North Carolina waterfront property on the Inner Banks.
Only 5 miles from Oriental, River Dunes is a top notch boating community with a beautiful marina, guest cottages and easily accessible North Carolina waterfront property. Real Estate Scorecard finds this Pamlico Sound real estate development to be one of the best places to live in North Carolina especially if folks love sailing and boating. The Outer Banks can be reached by boat in about 2 hours by crossing the Pamlico Sound. Amenities at River Dunes include a harborside swimming pool with Jacuzzis & cabanas, a fitness center and tennis courts. The beautiful Grace Chapel overlooking the harbor is a delightful place for intimate weddings and family gatherings. Under construction, a new General Store will offer provisions and outdoor amphitheater and performing arts pavilion will open this spring with a concert by Jeremy Davis and the Fabulous Equinox Orchestra. Soon to break ground in the Harbor Village are a post office and workout facility, and a café/bakery that will offer casual indoor and outdoor dining.
All of these factors led to River Dunes winning Real Estate Scorecard's prestigious 2015 Bliss Award for Best Boating Community of the Year for the third consecutive year. These are a few of the amenities property owners and guests enjoy every day at River Dunes:
RIVER DUNES AMENITIES
11,500 Square Foot Clubhouse overlooking the marina with dining
Grace Harbor Marina and Private 1,100 Foot Boating Access Channel
124 Deepwater Boat Slips with utilities
Outdoor Swimming Pool overlooking the marina
Fireside Hot Tub and Cozy Cabanas
Fitness Center with Steam Showers
Two Lighted Har-Tru Tennis Courts
The Lake House for social events
238 Acre Nature Preserve
Guest Cottages
Riverside Chapel
Spring is a beautiful time to explore Oriental for retirement. The annual Oriental Boat Show has become one of the biggest and most successful in-water boat shows between Annapolis and Savannah. Folks who plan to attend should be sure to stop by River Dunes exhibit, gather some information, and allow some time to visit the community and take a tour of some truly unique and beautiful North Carolina waterfront homes and land.
Call River Dunes direct at 800-975-9565 to schedule a tour.
About Real Estate Scorecard:
Real Estate Scorecard writes unbiased real estate reviews providing in-depth information about popular master planned communities in Florida, Georgia, the Carolinas, Tennessee and Central America, all in an effort to help people discover where to retire in the South.
Website: http://realestatescorecard.com