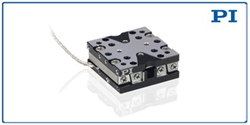 San Francisco, CA (PRWEB) March 12, 2015
PI's new Q-Motion positioning stages are ultra-compact, only 22mm wide come with travel ranges from ½" to 1 inch (26mm).
Learn more about PI Q-Motion Stages:
http://www.pi-usa.us/news/news_Q-motion-precision-miniature-stage.php?onl_prweb
Q-522 Compact Positioners, Economical in Open and Close-Loop
Several options are available for the Q-522 stage series, from economical open-loop designs, to low-cost closed-loop versions and high-end feedback sensors providing 1nm resolution.
Vacuum compatible stages are also offered and a non-magnetic option is in preparation.
Applications of the Q-Motion Miniature Linear Stages
Precision positioning and alignment of compact opto-mechanical components both in research and OEM instrumentation. Fields of application include photonics, bio-technology, nanotechnology, precision-optics, life-sciences and medical design.
Cost-Efficient Inertia Drive System
The drive principle is based on a cost-efficient piezo inertia drive motor (stick-slip). Stages and drive can be customized for larger production quantities.
Self-Clamping at Rest, High Stability
The self-clamping motor design provides long-term power-off position-hold capabilities without the need for a brake -- another space and energy saving advantage of the Q-Motion positioner series.
Custom Designs for Industrial Customers
PI has a long history of working with instrumentation manufacturers and can easily modify existing designs or completely customize piezo devices to fit the exact requirements of the application.
About PI USA
PI is a leading manufacturer of precision motion control equipment, piezo motors, air bearing stages and hexapod parallel-kinematics for semiconductor applications, photonics, bio-nano-technology and medical engineering. PI has been developing and manufacturing standard & custom precision products with piezoceramic and electromagnetic drives for 4 decades.
Globally, PI employs more than 800 people. PI USA is certified by ISO 9001:2008, ISO 14001:2004, OHSAS 18001: 2007 and ITAR TCP, DoS registered, and provides innovative, high-quality solutions for OEM and research.