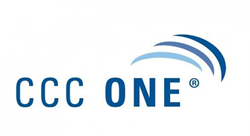 Chicago, IL (PRWEB) March 12, 2015
CCC Information Services announced today that CCC ONE® Repair Workflow, the only shop management solution available as a single application with repair estimating, has been chosen by the 5,000th repair facility. CCC is thanking its repair facility customers for providing invaluable input to CCC to help it create the most widely adopted shop management solution in the industry.
"Our customers have been instrumental in the evolution of our shop management solution," said Mark Fincher, Vice President, Market Solutions, CCC Information Services. "By taking advantage of the integrated feedback feature in CCC ONE Repair Workflow, users have been able to quickly and easily share input and suggestions about how to make the tool better. We want to thank our customers for their support in helping us create a workflow solution that broke the mold of traditional shop management systems. With the broad scale of industry adoption, we are well positioned to continue making ongoing investments in this platform."
CCC ONE Repair Workflow is a mobile-enabled solution that allows for intuitive and proactive shop management. The solution is differentiated by driving work to each role in the shop. Key features include resident estimating, production management and role-based dashboards and tasks to quickly identify exceptions. CCC ONE Repair Workflow is available for all popular mobile devices.
Learn more about CCC ONE Repair Workflow and read what other repairers are saying about the solution.
About CCC Information Services Inc.
CCC brings together what matters most – insight to make the best decisions, connections into the industry's leading auto claims network and superior productivity through an innovative single platform. Founded in 1980, CCC is the nation's leading provider of advanced software, workflow tools and enabling technologies to automotive collision repairers, parts suppliers, and property/casualty insurance carriers. Its client base includes more than 350 insurance companies and more than 21,000 repair facilities. In addition, the CCC True™ Parts Network connects hundreds of parts suppliers with repairers. CCC also delivers the most comprehensive, best-in-class industry insights by leveraging data captured from the millions of transactions processed through its network, and the forward-looking, trusted advisor perspective of its people. You can find out more about CCC Information Services Inc. by visiting the company's web site at http://www.cccis.com.