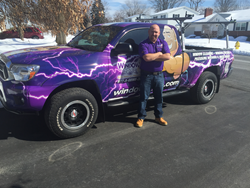 I'm grateful for everything I learned while working for Steve and hope to earn as much success as he did as a business owner.
Allentown, PA (PRWEB) March 12, 2015
Window Genie announces the grand opening of its newest location in Allentown. Jerry Mastrofilippo Jr. is the owner/operator. Window Genie is a national home service franchise specializing in residential and light commercial window cleaning, window tinting, pressure washing, gutter cleaning and more. Window Genie of Allentown will service the communities in Allentown and the surrounding Lehigh Valley area.
Before he was a Window Genie franchise owner himself, Mastrofilippo spent 10 years as an employee of Steve Sarafin, owner of Window Genie's location in Sparta, NJ. Sarafin opened his Window Genie franchise in 2000. Mastrofilippo was the lead technician and field manager.
Having seen first-hand the potential for growth, success and an attractive work-life balance, Mastrofilippo said he chose to branch out on his own so he could build a stable future for his family. "I worked for Window Genie's top earning franchise location for 10 years; I learned from the best. While I had a great boss and enjoyed the job, I felt ready to be my own boss. Since getting married and having kids I wanted to find a way to have my own say in balancing work while still being able to be there for my wife and kids as much as possible. Being my own boss and working in a field I have a great deal of experience in allows me that opportunity. I'm grateful for everything I learned while working for Steve and hope to earn as much success as he did as a business owner."
For Mastrofilippo, Window Genie represented a chance to live out his dream of being his own boss without the risks of going it alone. "The service industry is dear to me, and Window Genie's stellar reputation in the field conveys a great deal of credibility," said Mastrofilippo. "I knew that starting a business backed by the Window Genie name would let me get started on the right foot. Steve's experience working with the franchise system was always positive, he assured me I would always receive the support I needed from not only the corporate team but fellow franchise partners. That makes a huge difference and has put my mind at ease. I'm excited to branch out on my own and see what I'm made of."
With Window Genie, Mastrofilippo is part of a distinguished franchise system. Along with its #196 ranking on the magazine's Franchise 500 list, Entrepreneur also recognized Window Genie as the 72nd fastest-growing franchise, as well as appearing at number 51 on its Top 100 Home-Based Franchises list. Window Genie also made an appearance in Inc. Magazine's 2014 Inc. 5000, Bond's Top 100 Franchises for 2014 and Money Magazine's list of "13 Things to Do with $100,000 Now."
###
About Window Genie
Founded in 1994 by Richard Nonelle, Cincinnati-based Window Genie is a mobile cleaning services company focused primarily on its "big three" services: window cleaning, window tinting and pressure washing. The company also offers, among many other services, dryer vent cleaning, chandelier cleaning and gutter cleaning and re-securing. Window Genie services primarily residential customers, as well as small offices and commercial spaces. The company currently has 77 franchise owners operating 210 units in 24 states, and expects to grow to 100 franchisees by the end of 2015 and over 300 within five years. Target markets include California, New York and Florida. For more information, visit http://www.windowgeniefranchise.com.