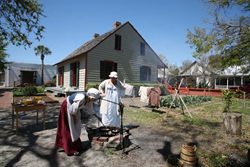 Pensacola, Florida (PRWEB) March 12, 2015
For families looking for an escape this Spring Break, the Pensacola Bay Area offers history, adventure and fun in the sun – not to mention mile after mile of sugar-white sand and turquoise water.
History
Pensacola is renowned for having "the world's whitest beaches." What fewer people know is that the city was also America's first European settlement and the cradle of Naval aviation. The historic seaport, first settled by Spanish conquistador Don Tristan de Luna in the 16th century, is steeped in colonial and U.S. military history.
Those who want to immerse themselves in the city's past can look to several award-winning museums located just a short drive from the beach. The National Naval Aviation Museum, located just west of downtown Pensacola, features an IMAX® theatre, aircraft simulators and hundreds of meticulously restored military aircraft.
For those wanting to delve into the city's colonial past, Historic Pensacola Village is the place to be. This massive, open-air museum features a large collection of restored, colonial-era buildings, in addition to live actors playing out scenes from the city's past.
Just a short walk from the village, the Pensacola Museum of Art and T.T. Wentworth, Jr. Florida State Museum also offer family-friendly exhibits.
Don't miss the cultural experiences available by visiting the new Voices of Pensacola Multicultural Center where you can listen to oral histories or tour historic sites along the African-American Heritage Trail.
Adventure
For those who prefer a bit more adrenaline in their vacation, the Pensacola Bay Area offers a wide array of activities for all adventure seekers. Ride the waves on a dolphin cruise. Take the family on a paddle boarding adventure. Rent ocean kayaks, or – if you prefer to get a bit further off the beaten path – take a five-hour zip lining course through the treetops above the pristine Coldwater Creek.
Shopping
No vacation would be complete without souvenirs, and the Pensacola Bay Area offers plenty of excuses to buy that third suitcase.
On Pensacola Beach, the shops of the Portofino Boardwalk sell a wide variety of merchandise – from beach wear to designer clothes, jewelry, wine and a smorgasbord of cheeky souvenirs.
A short drive over the Pensacola Bay Bridge yields even more shopping. Palafox Street, downtown Pensacola's main commercial corridor, has undergone a renaissance in recent years and boasts a wide variety of eclectic shops, galleries and eateries. No visit to downtown would be complete without a stop at Joe Patti's Seafood Market, located just a couple blocks to the west of Palafox. The market, a Pensacola landmark for decades, is the place to stock up on fresh seafood. Get there early enough, and you might even catch a glimpse of the Patti's boats unloading their catch on the docks.
Dining
Pensacola – with its vibrant downtown and beaches and its proximity to the Gulf of Mexico – is a diner's delight. The city boasts a diverse and burgeoning culinary scene, as well as more Florida Golden Spoon Awards than any other locale in the region.
On Pensacola Beach, the Grand Marlin offers gourmet dining and impeccable views of the bay. On the other side of the bridge, the options are expansive. Diners can enjoy upscale tapas and wine at the Global Grill, Irish pub fare and home-brewed beer at the world-famous McGuire's, or eclectic Southern cuisine at the Fish House.
Nightlife
While Pensacola is known for its family friendly atmosphere, the city is not without nightlife. The iconic Flora Bama, which straddles the Alabama state line in Perdido Key, is a Spring Break hot spot. Capt'n Fun – located on Pensacola Beach – offers nightly drink specials, live music and dancing – all just steps from the water. Just a few steps in the other direction, the Sandshaker bar is the birthplace of Pensacola's very own frozen, chocolaty concoction, the Bushwhacker. Downtown, the nightlife scene includes Seville Quarter, Vinyl Music Hall, Blend and World of Beer.
Besides boasting picture-perfect weather, springtime in the Pensacola Bay Area is also chock full of festivals and special events. Mark these events on your calendar to get even more out of your stay in paradise: A Bark to Remember on March 28, Blue Angels Practice Sessions from March 31 to April 8, the Perdido Key Wine and Art Festival from April 2-5, the opening of the Blue Wahoos baseball season on April 9, Bands on the Beach every Tuesday night beginning April 7, Pensacola JazzFest on April 11-12 and the Gulf Coast Half Marathon on April 12.
Details on all these events – along with spring travel deals – can be found at http://www.visitpensacola.com.
#
About Visit Pensacola
Visit Pensacola leads the effort of economic development through tourism in Escambia County. Comprised of over 200 member businesses, Visit Pensacola's mission is to position the Pensacola Bay Area as a premier year-round travel destination through tourism marketing, communications, meetings and conventions, reunions and group tour initiatives. For more information about Visit Pensacola, call 1-800-874-1234 (toll-free) or go to http://www.VisitPensacola.com.