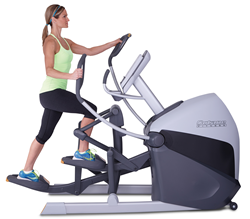 The XT-One offers a virtually infinite number of biomechanically correct movement patterns so exercisers can vary their motion and target different muscle groups for better results.
BROOKLYN PARK, Minn. (PRWEB) March 12, 2015
Continuing its impressive history of unmatched innovation in zero-impact cardiovascular equipment, Octane Fitness, LLC today introduces the new commercial XT-One cross-trainer at booth #1467 at the 34th annual International Health, Racquet and Sportsclub Association (IHRSA) Convention and Trade Show in the Los Angeles Convention Center. This all-in-one cross-trainer equips exercisers to walk, run, hike or climb for customized variety – all on one revolutionary machine.
"The XT-One offers a virtually infinite number of biomechanically correct movement patterns so exercisers can vary their motion and target different muscle groups for better results," said Tim Porth, the EVP of product development and marketing. "Health clubs no longer have to pick and choose from all the different adaptations of an elliptical – this one does it all in one compact footprint."
With 10 incline levels, the XT-One offers exercisers a choice of hiking or steep climbing, which can be selected and changed on the fly during workouts to maximize endurance, strength, power and calorie-burning. Plus, Octane's trademark SmartStride® interactive ergonomics replicate walking, jogging or running by automatically adjusting the stride length from 20'-28" based on an exerciser's pace.
Thirty resistance levels and 23 workouts challenge exercisers of every fitness level with variety and customization options, and Octane's Workout Boosters – SmartStride, X-Mode™ and ArmBlaster – facilitate cross-training and specific muscle use. The exclusive CROSS CiRCUIT® program delivers combined cardio and strength interval training to optimize personalized conditioning effectiveness and efficiency.
With numerous choices for movement, intensity and programs, the XT-One is the ultimate cross-training and interval training machine, encouraging exercisers to capitalize on valuable variety to increase motivation and accomplish goals.
NeXT Generation of Interactive Displays
Health clubs can choose their technology levels on the XT-One to best meet their members' needs:

o Smart Console – this top-of-the-line 10" capacitive touch screen entertains members with access to the Internet, apps, streaming video, music and more; also supports mobile device charging and incorporates asset management for club managers
o Standard Console – intuitive to navigate, this LED display with integrated capacitive buttons showcases all workout feedback; supports mobile device charging and will eventually include Octane's free SmartLink™ app for customized workout regimens and progress tracking

o Personal Viewing Screen (PVS) – a 15" wide screen adds television, movie and entertainment selections; comes with integrated keypad controls for a sleek, convenient solution that meets members' expectations
o Wireless 900 Mhz Receiver – wireless TV receiver is compatible with Cardio Theater, BroadcastVision, MYe Entertainment and more
Premium Performance
Built with Octane's smooth, ergonomically correct motion, heavy-duty construction and rigorous attention to quality, the XT-One uses a new linkage system for quieter operation and easier maintenance. And the machine is self-powered when equipped with the standard console.
The XT-One will be available in Q4 2015, with prices starting at $7,599.
Octane Fitness Background
Relentlessly fueled to reinvent zero-impact cardiovascular exercise, Octane Fitness has perfected the elliptical machine, introduced a new category with the xRide® recumbent elliptical, designed strength-infused cardio with the unique CROSS CiRCUIT®, created exercise in a new direction with the LateralX®, reinvented running with the Zero Runner®, optimized cross training with the XT-One™ that does it all and is leading smarter training with SmartLink™. Defined by standout innovations, and driven to deliver more effective, efficient and rewarding workouts, Octane is engineering elliptical domination.
# # #
Find Octane at http://www.Facebook.com/OctaneFitness. Images are available; contact Julie King at 847.638.1582 or jking(at)octanefitness(dot)com. For more information, contact the company at 888-OCTANE4 (888-628-2634) or http://www.octanefitness.com. Octane Fitness, CROSS CiRCUIT, LateralX, SmartStride, xRide and Zero Runner are registered trademarks of Octane Fitness. All other trademarks are protected by their respective owners.