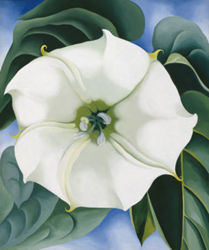 "It is wonderful to see Georgia O'Keeffe's iconic artworks find a new home in an institution committed to sharing great American art," said Cody Hartley, Director of Curatorial Affairs at the Georgia O'Keeffe Museum.
Santa Fe, NM (PRWEB) March 13, 2015
The Georgia O'Keeffe Museum is pleased to announce Crystal Bridges Museum of American Art has recently acquired Georgia O'Keeffe's Jimson Weed/ White Flower No. 1, (1932, oil on canvas), which will debut in a focused exhibition, Georgia O'Keeffe: See What I See, on March 28 at the Bentonville, Arkansas, museum. Several O'Keeffe paintings already in the Crystal Bridges collection will also be featured in the exhibition, including Small Purple Hills (1934, oil on board), and Feather and Brown Leaf (1935, oil on canvas). Also on view is a rare sculpture by O'Keeffe, Abstraction (modeled in 1946, cast circa 1979-80; white-lacquered bronze), furthering opportunities to see different aspects of the artist's career.
Since acquiring the painting, Crystal Bridges has begun discussions with the Georgia O'Keeffe Museum in Santa Fe, NM, which previously owned the painting, regarding collaborative efforts that would further enhance access to the study of O'Keeffe's work. "I am excited about the collaborative discussions we are having with Crystal Bridges to jointly strengthen our ability to represent American art through the breadth of O'Keeffe's creative achievements." said Robert A. Kret, Director of the Georgia O'Keeffe Museum. "We couldn't have hoped for a better outcome."
"We're pleased to debut this iconic painting with our visitors, and know it will quickly become a favorite in our galleries. Jimson Weed is one of the most celebrated works from the more than 200 flower paintings O'Keeffe created in her lifetime," said Crystal Bridges Executive Director Rod Bigelow.
In addition to the works in this focused exhibition, two other paintings by Georgia O'Keeffe are on view in the museum as part of the Alfred Stieglitz collection, thanks to a partnership forged with Fisk University in Nashville, Tenn. Crystal Bridges co-owns The Alfred Stieglitz Collection, 101 works of art that O'Keeffe donated to Fisk in 1949 from the collection of her late husband, Alfred Stieglitz, a photographer, gallery owner and champion of American Modernists. O'Keeffe's Radiator Building— Night New York (1927, oil on canvas) and Flying Backbone (1944, oil on canvas) are among the works in the Stieglitz Collection and add to O'Keeffe's works currently exhibited.
"The close-up view and cropped composition of Jimson Weed and other flower paintings reflects the influence of photography on O'Keeffe's vision," said Crystal Bridges Curator Mindy Besaw. "She married photographer Alfred Stieglitz the same year she began painting flowers, and photography was an active part of the couple's life together. Her use of photographic techniques and the scale of the painting directs the viewer to 'truly see the flower.' Jimson Weed embodies much of O'Keeffe's artistic strategy, and this focused exhibition offers an opportunity to delve further into those concepts."
Cody Hartley, Director of Curatorial Affairs at the Georgia O'Keeffe Museum, said: "It is wonderful to see Georgia O'Keeffe's iconic artworks find a new home in an institution committed to sharing great American art. I look forward to partnering with Crystal Bridges on future projects that allow us to represent the full breadth of Georgia O'Keeffe's artistic accomplishments for audiences across the country and internationally."
ABOUT THE GEORGIA O'KEEFFE MUSEUM
To inspire all current and future generations, the Georgia O'Keeffe Museum preserves, presents and advances the artistic legacy of Georgia O'Keeffe and modernism through innovative public engagement, education, and research. Opened in Santa Fe, New Mexico in 1997, the Museum counts O'Keeffe's two New Mexico homes as part of its extended collection. The Museum's collections, exhibitions, research center, publications and educational programs contribute to scholarly discourse and serve a diverse audience. For more information please visit http://www.okeeffemuseum.org.
ABOUT CRYSTAL BRIDGES
The mission of Crystal Bridges Museum of American Art is to welcome all to celebrate the American spirit in a setting that unites the power of art with the beauty of nature. We explore the unfolding story of America by actively collecting, exhibiting, interpreting, and preserving outstanding works that illuminate our heritage and artistic possibilities.
Opened to the public on 11-11-11, Crystal Bridges was founded in 2005 by the Walton Family Foundation as a nonprofit charitable organization for all to enjoy. Philanthropist and arts patron Alice Walton chairs the Museum's board of directors. Since its opening, the Museum has welcomed nearly 1.6 million visitors, and garnered more than 8,000 households in its membership. Some 74,000 school children have participated in the Museum's Willard and Pat Walker School Visit program, which provides educational experiences for school groups at no cost to the schools. More than 240,000 visitors a year utilize the Museum's 3.5 miles of walking trails.
Crystal Bridges takes its name from a nearby natural spring and the bridge construction incorporated in the building, designed by world-renowned architect Moshe Safdie. A series of pavilions nestled around two spring-fed ponds house galleries, meeting and classroom spaces, and a large, glass-enclosed gathering hall. Guest amenities include a restaurant on a glass-enclosed bridge overlooking the ponds, Museum Store designed by architect Marlon Blackwell, and a library featuring more than 50,000 volumes of art reference material. Sculpture and walking trails link the Museum's 120-acre park to downtown Bentonville, Arkansas.
Crystal Bridges' permanent collection spans five centuries of American masterworks ranging from the Colonial era to the current day. Included within the collection are iconic images such as Asher B. Durand's Kindred Spirits, Norman Rockwell's Rosie the Riveter, and Andy Warhol's Coca-Cola [3]— each reflecting a distinct moment in American artistic evolution—as well as major works by modern and contemporary American artists, including Georgia O'Keeffe, John Baldessari, and James Turrell. The permanent collection, which continues to grow through a strategic acquisition plan, is on view year-round and is enhanced by an array of temporary exhibitions, which were viewed by some 242,000 visitors in 2014.
Crystal Bridges provides year-round programming for all ages. In 2014, more than 500 public programs were offered, including lectures, performances, classes, and continuing education for K-12 teachers. An award-winning app, available free for both Apple and Android devices, features audio tours of current and past exhibitions, and many of the Museum's lectures and gallery talks are available in Crystal Bridges' iTunes U site. A new initiative to develop high-quality distance-learning opportunities for students and teachers begins this year.
Crystal Bridges also offers two research fellowship programs. The Tyson Scholars in American Art program supports full-time scholarship in the history of American art. The Reese Teacher Fellowship provides for research into the development of interdisciplinary connections between American art and4 core curriculum subjects of language arts, history, social studies, and the sciences. Additional information about Crystal Bridges is available online at CrystalBridges.org.
For more information, please contact:
Suzanne O'Leary
Suzanne(at)jlhmedia(dot)com
505-490-9116
Images are available upon request
###