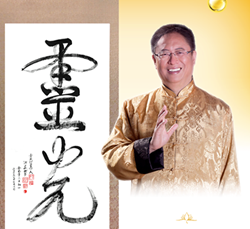 Los Angeles, CA (PRWEB) March 12, 2015
New York Times bestselling author and renowned healer Master Zhi Gang Sha, teaches how to embrace the power of soul and experience the life-changing power of Divine Healing Hands at a special certification training program on Friday, March 13 through Sunday, March 15 from 10:00am – 10:00pm, in-person at the Residence Inn , 901 West Olympic Boulevard in Los Angeles, CA, plus available via worldwide webcast (Honor Fee: $500). To apply to be a Divine Healing Hands practitioner, go to: https://www.drsha.com/event/special-dhh-mar13/.
Master Zhi Gang Sha empowers individuals to achieve balance in their lives, cleanse their karma and be of service to others. As a miracle Soul Healer and Channel, Master Sha offers Divine Healing Hands blessings that carry a frequency and vibration from the Divine that can transform an individual's health, emotions, relationships, finances, intelligence and every aspect of life. Registered individuals for the Divine Healing Hands Training Program will be empowered by the Divine to use their abilities to help family, friends, clients and strangers heal and rejuvenate every aspect of their lives.
Since 2012, more than 5,000 people attended Divine Healing Hands certification training workshops in over 20 cities around the world and via live webcasts with Master Sha. The best part about the Divine Healing Hands movement is anyone can join – not just healers and those in the health industry. People from all walks of life have attended Divine Healing Hands Training Programs and have experienced life-altering personal results, such as:
Participant at Canadian Divine Healing Hands Event Experiences Instant Transformation:
https://www.youtube.com/watch?v=anOZ3-5Dbts
Mother Tells How She Uses Divine Healing Hands Every Day in Her Household:
https://www.youtube.com/watch?v=dUQr2__B6g0
Zhi Gang Sha is an internationally renowned author and teacher in the fields of self-development and spiritual growth. He's the author of 25 books, including 10 New York Times bestsellers. Master Sha has numerous video programs for connecting to the "Highest Self" and the Tao, plus online courses for all levels of personal development. Master Sha has been interviewed by hundreds of media outlets around the world. He is the creator of The Source Ling Guang (Soul Light) Calligraphy, which has been viewed by hundreds of thousands who travel to meditate with the sacred scrolls.
Master Sha was named Qigong Master of the Year at the Fifth World Congress on Qigong. In 2006, he was honored with the prestigious Martin Luther King, Jr. Commemorative Commission Award for his humanitarian efforts. In September 2014, Master Sha was honored by the County of Maui, Hawaii naming September 21, 2014 "Dr. and Master Zhi Gang Sha Day" and by the Council of the City and County of Honolulu, Hawaii in recognition of his humanitarian service to promote love, peace, and harmony throughout the world. He was named Honorary Member of the Club of Budapest Foundation, an organization dedicated to resolving the social, political, economic, and ecological challenges of the twenty-first century. Officially launching in 2015, Master Sha has been invited to become one of the Founding Signatories of the Fuji Declaration, whose mission is to create lasting peace on Earth.