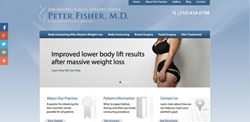 "This new website communicates the values of our practice and our focus on patients." Dr. Peter Fisher
San Antonio, TX (PRWEB) March 16, 2015
Board-certified plastic surgeon Peter Fisher is pleased to announce the launch of the San Antonio Plastic Surgery Center's new website at peterfishermd.com. Designed and developed by Einstein Medical, Dr. Fisher's new website features updated imagery, an improved layout, and a number of other enhancements that emphasize the practice's focus on patient education and satisfaction.
"This new website communicates the values of our practice and our focus on patients," Dr. Fisher said. "It's a great, dynamic resource for people who want to learn more about body contouring surgery and other procedures."
An Updated Look That's Sleek and Contemporary
People who visit the new website will notice that the entire site has undergone a major overhaul. While the color scheme of the old website is intact, the overall look of the site has changed dramatically. The site is more contemporary, and is viewable on desktop computers, laptops, tablets, and mobile devices.
Created with Intuitive Layout and Navigation in Mind
The layout of the website has been carefully reconsidered in order to improve browsing. The practice's address, hours, and phone number appear on all pages of the site. Links located at the top of each page, the bottom of each page, and in the text direct patients to important information that can deepen their understanding of procedures and their outcomes.
Embedded Videos Enrich the Browsing Experience
In addition to updated aesthetics and layout, the site also features a number of embedded videos on various pages that enrich web browsing. These original videos supplement the written content on the site, allowing people to have a multimedia experience as they learn about various cosmetic procedures.
A Photo Gallery So Patients Can See Results
Dr. Fisher's re-launched website boasts a gallery of plastic surgery before and after photos, showing actual results from patients who've visited the practice. Since Dr. Fisher specializes in advanced body contouring surgery, many of these before and after photos chronicle patients who have undergone body contouring for massive weight loss through bariatric surgery and mommy makeovers for skin laxity issues after pregnancy/childbirth.
Real Experiences, Real Differences: Patient Testimonials
A page on the re-launched website is dedicated solely to testimonials from Dr. Fisher's plastic surgery patients. Video testimonials and written testimonials speak to the quality of Dr. Fisher's work and his dedication to the needs of his patients.
"Hearing these true stories and seeing real results from our patients is important to people who are considering plastic surgery," Dr. Fisher said. "By sharing their experiences, we hope others out there will feel encouraged to make a positive difference in their lives."
Different Opportunities to Get Answers and Ask Questions
While the practice does offer a frequently asked questions (FAQ) page that includes basic information about plastic surgery procedures, getting in touch with the San Antonio Plastic Surgery Center is easier than ever. The practice has a presence on various social media platforms, including Facebook, Twitter, YouTube, and Google+. The website also features a blog that will be regularly updated to provide patients with important information about various treatment options, emerging topics in cosmetic surgery, and various happenings at the practice.
"We want to give all current and prospective patients the ability to interact with our team," Dr. Fisher said. "If they have any questions, they can get in touch with us by phone, by email, on Facebook, or on Twitter. They can also feel free to post comments on our blog posts or YouTube videos. This makes it easier for patients to get the information that they need in a way that's most comfortable for them."
Contact the Practice of Dr. Peter Fisher
For more information about Dr. Peter Fisher and the many different treatment options available at his practice, contact Dr. Peter Fisher online. The practice can also be reached by using the contact information below.
San Antonio Plastic Surgery Center
7950 Floyd Curl Drive, Suite 904
San Antonio, Texas 78229
Phone: (210) 853-2407
Originally posted by Peter Fisher