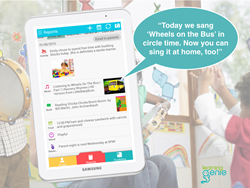 Carlsbad, CA (PRWEB) March 13, 2015
When asking a San Diego preschool teacher about the most difficult part of her job, her response wasn't the unruly children, the early mornings or the low pay—it was the parents.
"Parents have more influence than any teacher ever will on their child, that's why we need to be on the same page."
It's not the parents' fault that they're not always on the same page. There is often a lack of communication and a lack of opportunities to engage.
That's why a startup in Carlsbad, California is working to change that. The Learning Genie app is the first of it's kind—an interactive digital way for parents and teachers to connect. Teachers can now link to the Internet to instantly share songs and book details with parents. Any children's song that you can find on YouTube, and any books used in lesson plans can be found and shared through Learning Genie.
Parents, imagine this: little Suzie comes home from school singing a song that you've never heard in your life (that probably already happens, right?). All it takes for you to join her serenade is a couple of taps on your phone. Learning Genie reports include links to songs and videos shared by the teacher—so your child's day isn't so unfamiliar anymore. These real-time updates also include photos of your child, learning activities, meal and potty time updates, important reminders and more—all on your smartphone.
The NAEYC Center for Applied Research reported that, "When children's progress can be tied to classroom activities and home activities, development and learning are strongly reinforced and further family involvement is inspired. "
Learning Genie has high hopes to help families and early learning programs achieve that reinforcement, ultimately enhancing the skills so fundamental to childhood development.
The app was created by parents of a now 3-year-old. After teaming up with an advisory board of Early Child Educators, they were able to fully understand the pain points on both sides of the equation. The goal is to enhance the early learning experience for everyone, by bridging the communication gap, increasing parent engagement and improving the lives of preschool teachers everywhere.