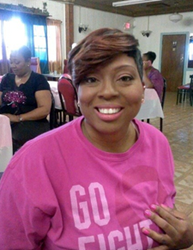 "My wife is a cancer survivor, so Felicia's story immediately impacted us on a personal level. It is unfortunate that she is not granted paid leave. Our agency is looking forward to helping her in this time of need," said Al Hicks, the Agency's Principal
Friendswood, TX (PRWEB) April 02, 2015
The Al Hicks Agency continues its efforts to support local charities benefiting the community of Friendswood. The agency's new campaign focuses on raising funds in order to help a young woman named Felicia, as she undergoes medical treatment in her fight against breast cancer.
Felicia was first diagnosed with breast cancer in 2008, luckily she was able to beat cancer and maintained remission for five years. Unfortunately during her recent yearly checkup, Felicia received the terrible news that the breast cancer had returned. She underwent surgery on February 13th, followed by a delicate recovery period which requires anywhere between two to four months off of work. Unfortunately, she does not have any benefits through her job to provide any income while she's off work.
"My wife is a cancer survivor, so Felicia's story immediately impacted us on a very personal level. I think it's unfortunate, for lack of a better word, that she is not granted paid leave. Our agency is looking forward to helping Felicia in this time of need," said Al Hicks, the Agency's principal.
The agency will promote the current campaign over the course of the next 60 days, through its social media channels, email communications, and monthly electronic and print magazines, delivered to thousands of households in Friendswood, TX. Our Hometown magazine devotes a complete page to spotlighting the cause and its details. The electronic Flipbook version of the current issue can be accessed here: http://alhicksagency.com/Our-Hometown-Magazine_41
To join the Al Hicks Agency in supporting Felicia with her battle against breast cancer, donors are encouraged to visit http://alhicksagency.com/Help-Felicia-Fight-Breast-Cancer_14_community_cause and share the page with their friends and family. Contributors may be acknowledged for their donations through the agency's monthly magazine.
Once the current campaign is over, the Al Hicks Agency will continue to work closely with Felicia, as well as other nonprofit organizations in the area, to make sure resources are directed to capable hands that can help better the local community, one family or person at a time. For more information regarding current and past community causes our agency has supported, please visit: http://alhicksagency.com/community-cause. General information in reference to the Al Hicks Agency is available at http://alhicksagency.com
About the Al Hicks Agency
The Al Hicks Agency is committed to help you determine your immediate and long-term financial goals in order to provide you with solutions that meet your and your family's needs. With over 30 years of experience, the Al Hicks Agency is here to help protect the things that are most important – your family, home and more.