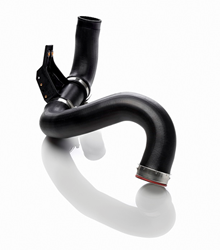 Highlights of the product release include five new sizes of the FleetRunner Hi-Temp Straight Coolant Hose.
Denver, Colorado (PRWEB) March 12, 2015
Gates Corporation, a global diversified manufacturer of industrial, automotive, and heavy-duty aftermarket products, today announces it has expanded its extensive Original Equipment (OE) quality automotive products line with 132 new part numbers this month. Gates has greatly extended coverage across several product categories by introducing new, innovative products and offering better solutions by listening to technician feedback and analyzing market research.
Highlights of the product release include five new sizes of the FleetRunner Hi-Temp Straight Coolant Hose. This durable stick hose excels in extreme conditions, making it ideal for extended use in heavy-duty trucks.
In addition, this release includes two complete turbocharger hose assemblies which complement Gates growing line of turbocharger hoses and kits. These hard-to-find assemblies for Sprinter Vans include all OE Exact components (hoses, mounting bracket) at a competitive aftermarket price.
OE Exact and OE Performance Coolant Outlets are now available as well and are the perfect extension to our category leading full-line coverage of cooling system components. This extension of 20 new parts is comprised of Thermostat Housing Assemblies, Water Outlets, Thermostat Covers, Coolant Air Bleeder Housings and more. Also on the lineup this month are 14 new parts for light duty water pumps. Recognized for durability and quality, our water pumps are constructed with premium materials for maximum performance.
Lastly, 20 new parts were added to Gates G-Force line. G-Force belts for snowmobiles, ATVs and other powersport vehicles are designed to handle the most demanding off-road conditions with ease. Extreme testing ensures that these belts provide exceptional performance.
For more detailed information about new and existing Gates automotive aftermarket products, please visit Gates.com/automotive.
For more information about Gates Corporation, please contact Scott Howat at 303-744-4654.
About Gates Corporation
Gates Corporation is the world's leading manufacturer of power transmission belts and a premier global manufacturer of fluid power products. Our highly engineered products are critical components used in diverse industrial and automotive applications where the cost of failure is very high relative to the cost of our products. We provide a differentiated value proposition to our customers by offering a complete portfolio of premium product and service solutions for both replacement and first-fit applications across our targeted end markets, which encompass process and specialty, construction, agriculture, energy, transportation, and automotive. We sell our products globally under the Gates brand, which is recognized by distributors, original equipment manufacturers, and installers as the premium brand for quality and technological innovation, a reputation which we have built for over a century since our founding in 1911.
As an engineering leader with a strong foundation in research and development, Gates is committed to advancing the science of motion performance by developing safe, forward-thinking products, services, systems, and solutions, as well as fostering long-term customer and employee relationships. Headquartered in Denver, Colorado, Gates employs over 14,000 people across 106 locations in 30 countries.
If it moves you, there's a good chance Gates has a part in it.
Gates. Powering Progress.