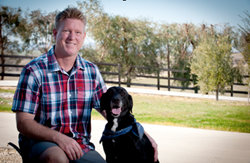 Training service dogs is a rewarding experience
San Jose, CA (PRWEB) March 28, 2015
Canine Tutors, a full-service San Jose dog training and obedience school, has announced its relocation from Atascadero to San Jose, CA.
Ashley Starling, Canine Tutors' owner and dog training expert, explained that the move stems from wanting to expand his business and remain close to family. "My son recently turned 18 and decided to relocate to the bay area to pursue his college degree. At the same time, relocating Canine Tutors to San Jose provides access to a larger and more culturally diverse client base with its own unique dog training needs and obedience challenges," Starling said.
Relocating from San Luis Obispo County, that has a population base in the hundred of thousands to the bay area that serves over a million, offers a wealth of new experiences and opportunities for Starling's dog training business.
"People have moved to the bay area, and in particular Silicon Valley, from all parts of the world including India, China and the continent of Africa, to make their mark," Starling noted.
Those lured to the U.S. by high technology companies like eBay, Yahoo and Google, are immediately immersed in a culture that celebrates the special relationship between dogs and their humans. "They look around and think, 'I want a dog!'" Starling said. "So it's kind of a neat experience because I get to introduce people to a unique part of what it means to be American."
Canine Tutors offers individualized training and obedience programs that treat all common training and behavioral issues, as well as more complex problems like aggression. They also provide advanced training techniques for guidance and service dogs.
"Training service dogs is a rewarding experience," Starling said. "I've seen the way they motivate and inspire my clients to face the challenges that have become a part of their daily lives."
As Starling explained, a dog is something that will either bring immense joy, or a lot of frustration. Canine Tutors strives to cut down on frictions within the dog/owner relationship and increase happiness. "My goal is to spread peace through dog training," he said.
About Canine Tutors
Canine Tutors is a San Jose based, mobile service that offers dog and puppy training in the bay area and surrounding communities including Santa Clara, Los Gatos, Sunnyvale, Campbell, Saratoga, and Los Altos. They offer private, one-on-one, in-home obedience training classes, as well as group sessions. Canine Tutors training program treats behavioral issues such as excessive barking and aggressiveness, along with the more common come/sit/stay commands. They incorporate tried-and-true methods with cutting edge techniques to create a more harmonious dog/owner relationship. For a private consultation, contact Canine Tutors at (408) 455-1503 or visit their website at caninetutors.com.
Canine Tutors
311 Keeler Court
San Jose, CA, 95139
(408) 455-1503