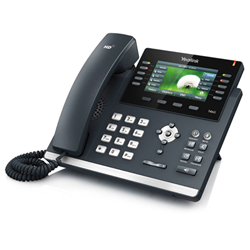 Utility's choice of Yealink means that customers of Utility will have better IP phone options to experience Utility's Hosted PBX service
Stockton, CA (PRWEB) March 16, 2015
Utility Telephone, one of the leading communications and internet service providers in the USA, has announced that it is to provide its customers with Yealink Ultra-elegant Gigabit SIP Phone. Utility's choice of Yealink means that customers of Utility will have better IP phone options to experience Utility's Hosted PBX service.
Utility Telephone provides traditional telephone, MPLS data transport as well as DSL & Internet services. In business over 15 years, its objective is always to help its business customers maximize success by utilizing the most cutting-edge technology with efficient investments. Utility is also an important client of MetaSwitch, the leading global communication platform provider.
Yealink is currently the world's second-largest SIP phone supplier. The company's range includes three product lines: - business IP phones, IP video phones and IP DECT phones. Its Ultra-elegant T4X Series SIP phones are designed to provide excellent experience to executives who expect the best with revolutionary appearance with many advanced technical features. Also, its SIP phones work very well with MetaSwitch's platform. That is one of reasons why Utility chose Yealink, because excellent interoperability of Yealink endpoints with MetaSwitch will pave the path for great user experience by its customers.
In addition, Utility is pleased with the technical and after-sales support from Yealink, because Yealink responds quickly to requests from Utility and its business clients. Meanwhile, Utility's customers also appreciate the affordability of Yealink's T4X SIP phones with elegant appearance and consider them more cost-effective than the phones Utility previously provided. They also think highly of Yealink phones for easy installation, dependability, manufacturing quality, and more advanced features specially developed for Utility's hosted PBX.
"For more than a decade, Yealink has been working tirelessly to maximize our value as a leading VoIP products and solutions competitor in the global marketplace," explains Stone Lu, Senior Vice President for Sales and Marketing. He adds, "We believe Utility's choice of Yealink will bring great growth potential for both the months and years ahead."
About Yealink
Yealink, globally the Number 2 SIP Phone provider, is committed to designing and manufacturing innovative, high-quality, low-carbon-footprint IP phones. Since 2001, Yealink has continued to develop state-of-the-art, hi-tech VoIP communication terminals that include IP video phones, IP phones and DECT phones. With a worldwide market in more than 140 countries, Yealink has also established a first-class international service network.
For more information, please visit: http://www.yealink.com .
About Utility Telephone
Utility Telephone is a leading Integrated Communications Service Provider and CLEC serving California and Nevada. Formed in 1996, Utility operates its own switching and fiber-optic OC-48 networks including over 60 ILEC collocation sites and a datacenter at the premier address, One Wilshire in Los Angeles, at the core of the free world's Internet infrastructure. Services include local and long distance voice, Internet access, Hosted IP PBX and MPLS/VPN transport. Competitive pricing, a comprehensive product line and long-term customer relationships are hallmarks of Utility Telephone's reputation for great service.
For more information, please visit: http://www.utilitytelephone.com