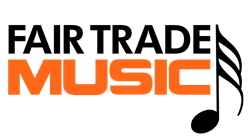 Fair Trade Music represents a better way to compensate artists and reward fans with a better listening experience
Denver, CO (PRWEB) March 13, 2015
Frustrated with the ad-based, stream-for-free paradigm of digital music, the Fair Trade Music Initiative launched today with a simple premise: music, like all valuable art, should not be free. Musicians deserve to be paid fairly for their work, and fans should be willing to pay a reasonable price for the music they enjoy.
It may have made sense, in the analog era, that radio stations wouldn't pay performers or copyright holders for the rights to air their music. Radio plays led directly to album sales, and album sales led to sold out concerts. But in the digital era, with album sales at all-time lows, that is no longer the case. For streaming royalties to even come close to replacing lost revenue from CD sales and downloads, new approaches need to be considered for how to compensate artists for their work. For too long, artists have had to settle for a "better than nothing" mindset.
The "free music" mantra that still proliferates today is detrimental to artists, fans, and to the discovery of new music. "It's a sad but true fact that the first exposure many people had to online music was an illegal, free file-sharing service," said Eric Neumann, founder of the Fair Trade Music Initiative and of Mad Genius Radio, a subscription-based streaming music service. "Because of that, many people who have never stepped foot in a CD or record store feel that music is an entitlement and not an art form. We want to change that belief."
Fair Trade Music's philosophy is simple. Free access to music — via ad-based streaming platforms — doesn't serve artists well because they pay significantly less on a per-song basis to artists than their subscription counterparts do. It's the belief of the Fair Trade Music Initiative that consumers, too, need to be willing to pay for the music that they love – and many are.
Subscription-based radio services, in fact, pay 79% more in royalties for artists and copyright holders per song — as well as more for songwriters – than do free, ad-based streaming radio services. Nearly half of the royalty payment goes directly to artists.
"Music is the most engaging form of art there is, and now is the time to work together to right a wrong," continued Neumann. "We don't think it's proper to be fighting artists in court to lower rates. That's an unwinnable battle on all fronts, so Fair Trade Music represents a better way to compensate artists and reward fans with a better listening experience."
While some public reports about paltry royalty payments to artists can't be adequately debated since those payouts are governed by confidential record label contracts with their artists and on-demand streaming services, Fair Trade Music is focused on payouts for online radio.
"If more music fans listened to subscription radio services, which don't interrupt the listening experience with ads, then artists would be making a heck of a lot more money," said Fair Trade Music's Neumann. "If we were talking about something physical – say smartphones – that sold tens of millions of units, but the design team only got a few hundred dollars for their passion, creativity, and vision, there would be an uproar. With the biggest players in streaming music paying pennies per million plays, that's just what we have now. And that's why Fair Trade Music is an idea whose time has come.
The Fair Trade Music Initiative has two practical components – one for artists and one for fans. Artists are asked to join the movement by signing up and showing their support for Fair Trade Music. Artists will then begin receiving incentive payments from Mad Genius Radio for each fan referred to the site that creates a free trial. The artist – or their designated charity - will earn $2 per referral, plus recurring rewards when that listener becomes a paid subscriber.
For fans, the Fair Trade Music proposition is simple: try a subscription-based music streaming service as an ad-free alternative. Similar-minded music fans will agree that a nominal monthly fee – about the price of a latte – is well worth it.
The ultimate goal of the Fair Trade Music Initiative is for payouts from subscription radio services to become a meaningful source of income to artists or a sizable, recurring donation to an artist's favorite charity. Future considerations for Fair Trade Music are to explore ways for fans to contribute directly to their favorite artists via a secure, online platform while listening. According to Neumann: "Fair Trade Music offers a real alternative to the current streaming music behemoths."
About the Fair Trade Music Initiative
Fair Trade Music is a new coalition for artists and music industry professionals who care about how artists are compensated in the digital era. We are focused on solutions to the problem of poor artist payouts by streaming music companies, and on getting fans and artists involved to support more commercial-free, subscription services because they pay artists better. We hope you'll join us in this movement!
For more information, visit: http://www.fairtrademusic.co.