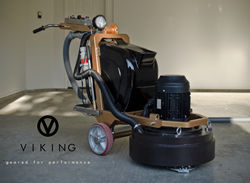 We wanted to bring a machine to our Industry that is both affordable and reliable. Time is money, and these machines save contractors both
Vancouver, British Columbia (PRWEB) March 20, 2015
Viking Diamond is pleased to announce the release of their concrete grinding/polishing line-up to the North American marketplace. Viking Diamond grinders are hard working, reliable machines that are priced well below competing brands.
The Viking Diamond line of concrete grinding/polishing machinery was designed for the North American market, where there is a strong demand for fair priced, reliable equipment. Viking Diamond offers 5 contra rotating machines from 4-20 horse power, and 4 planetary machines ranging from 7.5-20 horse power.
"We wanted to bring a machine to our Industry that is both affordable and reliable. Time is money, and these machines save contractors both. Our concrete grinders are gear driven which means no more broken belts, and less down time on job sites. The motors are high efficiency and can work all day without overheating problems," states Scott Robbins, President of Viking Diamond North American Sales.
Features & Benefits:

Machines are all gear driven.
Heavy head weight
Machines are available both contra-rotating, and planetary rotating
Capable of continuous work for extended periods of time
Quick and easy to change the diamond tooling
Wet and Dry grinding
Unique design makes our machines convenient to carry
Remote for easy control of rotation speed
About Viking Diamond:
The Viking Diamond series of concrete grinders is manufactured by The Xingyi Group, manufacturers of quality machines for over 15 years. The Xingyi Group specializes in floor grinding and polishing machines, and currently hold 23 patents for the unique Viking Diamond Series of machines. Viking Diamond machines adhere to strict quality control which ensures customers will receive dependable equipment. Their business philosophy is "customer first."
Viking Diamond strives to develop quality relationships with their client base and continue to advance our business as an industry leader. Viking Diamond machines are sold and used in more than 100 countries.
Viking Diamond North American Sales office is located in Surrey, BC, Canada
1800-272-0381
http://www.vikingdiamond.com
sales(at)vikingdiamond(dot)com