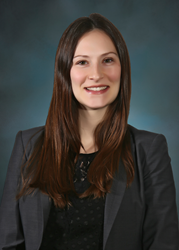 Albuquerque, N.M. (PRWEB) March 12, 2015
Lewis Roca Rothgerber LLP proudly announces the addition of Jessica Nance to the firm's Litigation practice group. Nance is an associate based in the firm's Albuquerque office.
Nance is experienced at researching complex legal issues, drafting motions and conducting witness interviews.
Prior to joining the firm, Nance worked in the felony division of the New Mexico Public Defender's Albuquerque office. There she was lead counsel on multiple jury and bench trials and regularly handled virtually all aspects of criminal litigation, including drafting and arguing motions, plea negotiations and plea and sentencing hearings.
While in law school, Nance clerked for the Chief Judge of the Federal District Court of Oregon, the Honorable Ann Aiken. She also worked for the Federal Public Defender in Eugene, Ore.
She is a volunteer and mentor with Big Brothers Big Sisters of Northern New Mexico.
Nance holds a J.D., Order of the Coif, from the University of Oregon School of Law and a B.A. in Law, Societies and Justice from the University of Washington.
About Lewis Roca Rothgerber LLP
Lewis Roca Rothgerber LLP is one of the largest law firms in the Western U.S. With 250 attorneys serving clients across nine offices including Albuquerque, Phoenix, Las Vegas, Reno, Silicon Valley, Colorado Springs, Denver, Casper and Tucson, the firm maintains thriving practices in litigation, real estate, business transactions, intellectual property, gaming, banking, bankruptcy and energy/natural resources. For additional information, please visit http://www.LRRLaw.com.