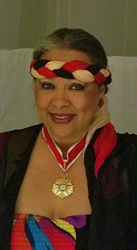 BURBANK, Calif. (PRWEB) March 16, 2015
Joan Marques, PhD., assistant dean of Woodbury University's School of Business, has been awarded the rank of "Commandeur" in the order of the Yellow Star by the President of the Republic of Suriname, her native country. One of the highest honors the South American nation can bestow on its citizens, the Yellow Star was presented in Miami on February 21 by Rita Schavet, the Consul General of Suriname.
The award recognizes Prof. Marques's 35 years of service, which includes 18 years as a radio and television producer, host and entrepreneur in Suriname and 17 more as a scholar, writer, educator and entrepreneur in the U.S.
"I'm humbled, and I cannot begin to express my great good fortune at receiving this singular honor," Prof. Marques said. "It's doubly rewarding, given that it addresses experiences in both of the nations I've had the pleasure to call home."
"Joan Marques epitomizes so much of what makes Woodbury distinctive and special," said Andre van Niekerk, Dean of the School of Business. "She has been both an exceptionally successful working professional and a values-driven academician. She is engaged and engaging, creative and inspiring. It's no exaggeration to say that she embodies all four of Woodbury's educational pillars – design thinking, entrepreneurship, civic engagement and transdisciplinarity."
In Suriname, Marques made her mark as a high-profile personality on TV and radio, creating more than 150 educational television segments -- many advocating for the rights of women, children, the poor, and the homeless -- as well as representing her country at important national and international events. Marques co-founded multiple businesses, and created a foundation for the betterment and awakening of women ("Women for Women").
In the U.S., she earned an MBA from Woodbury and a doctorate in education from Pepperdine University. Swiftly transitioning from student to teacher, she has served as an academic advisor since 1999 and an adjunct faculty member since 2001, eventually becoming Director and Chair of the BBA Program and Chair of the Management Department, where she is an associate professor.
Prof. Marques is the author of more than a dozen books, including Joy at Work, Work at Joy: Living and Working Mindfully Every Day (Personhood Press) and Leadership and Mindful Behavior: Action, Wakefulness, and Business (Palgrave MacMillan). A thought leader in the areas of workplace spirituality and values-driven leadership, she has written or co-written more than 120 scholarly articles for journals that include Business and Society, The Journal of Business Ethics and The Journal of Management Development, among others.
In addition to her degrees from Woodbury and Pepperdine, Prof. Marques has a Ph.D. from the University of Tilburg in the Netherlands and a BS in Business Economics from MOC, Suriname. She also holds an AACSB Bridge to Business Post Doctoral Certificate from Tulane University's Freeman School of Business. She is cofounder of The Business Renaissance Institute, president and cofounder of the Academy of Spirituality and Professional Excellence, and a member of the Academy of Management and the Organizational Behavior Teaching Society.
About Woodbury University
Founded in 1884, Woodbury University is one of the oldest institutions of higher education in Southern California. Woodbury offers bachelor's degrees from the School of Architecture, School of Business, School of Media, Culture & Design, and College of Transdisciplinarity, along with a Master of Arts (MA) in Media for Social Justice, Master of Architecture (MArch), Master of Interior Architecture (MIA), Master of Science in Architecture (MSArch), and Master of Leadership. The San Diego campus offers Bachelor of Architecture and Master of Architecture degrees, as well as an MSArch degree with concentrations in Real Estate Development and Landscape + Urbanism. Woodbury ranks 15th among the nation's "25 Colleges That Add the Most Value," according to Money Magazine. Visit http://www.woodbury.edu for more information.