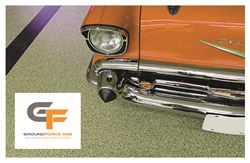 What I was able to confirm at the training was that I am not only dealing with a superior product, but I am working with a team of true professionals that offer me all the technical and installation support I will require
Vancouver, British Columbia (PRWEB) March 20, 2015
Ground Force One has recently expanded and is offering professional concrete coating systems to new markets in Canada. The 3 new dealerships are proudly serving locations across Canada: GF1 of Regina serving Regina/Moose Jaw and surrounding areas; GF1 of Ottawa serving Ottawa/Gatineau and surrounding areas; and GF1 of Vancouver (North) serving Maple Ridge to the Sunshine Coast.
Ground Force One Head Office requires that new dealers participate in an extensive hands-on training program to learn proper concrete preparation and coating installation techniques. Scott Palmer, owner of GF1 of Regina, brings over 20 years of experience in related construction trades. Palmer decided to team up with Ground Force One because of head office's extensive experience both installing and manufacturing polyaspartic coatings. "What I was able to confirm at the training was that I am not only dealing with a superior product, but I am working with a team of true professionals that offer me all the technical and installation support I will require," said Palmer.
Richard Monger, owner of GF1 of Ottawa, also brings over 20 years of experience in related construction trades. Monger particularly "liked the idea of working with a Canadian owned and operated company that uses Canadian made materials."
Mike Yates, and AJ Begg, owners of GF1 of Vancouver (North) were sold on the Ground Force One franchise after participating in a couple of local installs with the owners of GF1 of Vancouver (South.) Yates and Begg have a combined 30 plus years experience in the construction industry. "We are both really excited to align ourselves with the GF1 team as we believe they offer the best product and system available on the market for concrete resurfacing and finishing."
About Ground Force One:
Ground Force One is an industry leader in residential, commercial and industrial concrete coating installations, providing high quality, durable, low maintenance polyaspartic floor coatings. Our Head Office in Vancouver (South) has installed over 1000 polyaspartic floors over the past eight years. GF1 uses Canadian manufactured Iron Man Coatings polyaspartic systems. Iron Man Coatings can be installed in just one day, with a return to service in as little as 4 hours for foot traffic and 24 hours for heavy traffic/ vehicle traffic.
Ground Force One currently serves 4 Canadian locations, and we are positioned to expand our Canadian market. We offer a low cost, turn-key opportunity for enthusiastic individuals looking to start a new venture in the garage flooring/concrete coatings industry.
GF1 of Ottawa – http://www.gf1coatingsottawa.com
GF1 of Regina – http://www.gf1coatingsregina.com
GF1 of Vancouver (North) – http://www.gf1coatingsvancouver.com
GF1 of Vancouver (South) – http://www.gf1coatingsvancouver.com
Ground Force One dealerships are available in:
Victoria, Kamloops, Red Deer, Grande Prairie , Fort McMurray, Edmonton, Calgary, Lloydminster, Medicine Hat, Saskatoon, Winnipeg, Brampton, Hamilton, Kitchener, London, Markham, Toronto, Windsor, Hamilton, Laval, Montreal, Quebec City, St. John's, Saint John, Halifax
For more information regarding dealership opportunities:
Phone: 778-938-3359
http://www.concretecoatingscanada.com
info@concretecoatingscanada.com