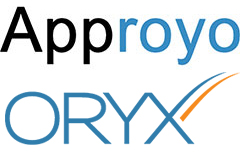 (PRWEB) March 12, 2015
Approyo, a leading enterprise SAP HANA Solutions Provider, and Oryx Group, a leading SAP consultancy company, announced a new partnership. This new partnership allows Oryx Group to sell Approyo's full breadth of products and solutions throughout Europe.
Oryx Group is an SAP consultancy company focusing on usability & integration, Business Insight and customer interactions. Oryx Group helps customers to make the right decisions, implement the right components in a cost-effective way and make sure that at the end, there is a measurable business benefit.
"We have chosen to become reseller of Approyo as we believe in the combination of cloud services of Approyo which can deliver from their global service centers top quality in combination with the state of the art SAP HANA platform" said Geoffrey Craps, CEO of Oryx Group.
"Combining Approyo's expertise and our wide experience in SAP HANA and Oryx Group's focus on SAP in Europe, makes for an exciting combination for both companies and customers," said Marcus Retrac, President of Approyo.
Approyo has been providing SAP HANA in the cloud for the last three years, we have built an entire platform using the best solutions in the market that would allow our clients to benefit immediately from Hana without the massive upfront cost structure typically seen with those bare metal solutions.
About Approyo
Approyo is a global SAP Hana start up focus partner for products and services that include upgrades, comprehensive remote operations/managed services, consulting, hosting and implementations and cloud services. Approyo differentiates itself by offering scalable managed SAP Hana solutions for organizations of all size. Headquartered in Palo Alto, CA with partner offices around the world, Approyo has the capability to support global organizations and their applications.
For additional information e-mail us at info(at)Approyo(dot)com, call 404.448.1166, or visit us on the web at http://www.approyo.com
About Oryx group
The Oryx Group is a young and dynamic SAP implementing partner with HQ in Belgium and office in The Netherlands & Bulgaria with customers in the Benelux, Bulgaria and the rest of Europe. Oryx has known a continuous and steady growth during the past few years due to it dedicated focus on our core competencies: Customer Engagement & Hybris, BI, and Mobility.
For additional information e-mail us at info(at)theoryx(dot)com, or visit us on the web at http://www.theoryx.com.