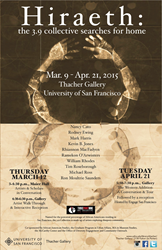 San Francisco, CA (PRWEB) March 12, 2015
The Thacher Gallery at the University of San Francisco and the 3.9 Art Collective collaborate for an exhibition that explores concepts of home and the exodus of African Americans from San Francisco and its lasting effects on art, community, and perceptions of home. "Hiraeth: the 3.9 collective searches for home" will be on display now until April 21, 2015 in the Thacher Gallery at USF.
Named for the potential percentage of African Americans residing in San Francisco if trends continue, the 3.9 Art Collective is made up of artists exploring diaspora community and working together to support and maintain a community of African American artists in the city.
With ten artists from the collective and curated by A Simple Collective director, Rhiannon MacFadyen (also a 3.9 collective member), Hiraeth continues this endeavor.
Artists include Nancy Cato, Rodney Ewing, Mark Harris, Kevin B. Jones, Rhiannon MacFadyen, Ramekon O'Arwisters, William Rhodes, Tim Roseborough, Michael Ross and Ron Moultrie Saunders.
Hiraeth is a Welsh word meaning homesick or a longing for a place that does not exists. For this exhibit, artists explore hiraeth in diverse, personal ways using an array of mediums. Nancy Cato's mural on the gallery walls uses characters to create authentic narratives about race and gender identity. African American history is a major theme behind Rodney Ewing's "Four Doors" examining geography and grief and Kevin B. Jones's haunting photographs of former slave quarters. Installations by Michael Ross and William Rhodes will speak to family, loss and memory. Tim Roseborough presents abstract abstracted text on art and blackness from his "Post Black" series, while Ron Moultrie Saunders's photograms and Mark Harris's mixed media collages offer evocative layered compositions that engage emotion. Finally, curator Rhiannon MacFadyen's "Wish You Were Here" will include a series of postcards examining lost murals from her native San Francisco. Together, these works remind us of the array of African American arts in San Francisco and what would be lost to the city if these artists were to be pushed out.
Opening events will occur on Thursday, March 12 with an artist roundtable addressing identity and place and its importance in creating art and community from 3-4:30 p.m. in the Maier Room, Fromm Hall. This will be followed by an artist walk-through, art activities such as a Crochet Jam in the gallery, and a reception. A closing event, "The Western Addition: A conversation and tour with artist Rodney Ewing, 3.9 Collective Co-founder" sponsored by USF's McCarthy Center Engage San Francisco project will take place on Tuesday, April 21, from 5:30-7:30 p.m.
The Thacher Gallery at USF is free and open to the public from noon to 6 p.m. daily. For more information, please visit http://www.usfca.edu/library/thacher, or call 415-422-5178.