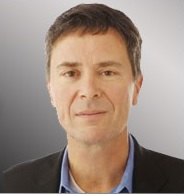 Jeff's hard work, professionalism and dedication has led the industry - Papa Doug Manchester
San Diego, CA (PRWEB) March 12, 2015
U-T San Diego has named Jeff Light as its new president and chief operating officer. Light, currently editor and vice president of content at U-T San Diego, will continue as editor, a position he began in 2010 at the multimedia company.
"Jeff's hard work, professionalism and dedication has led the industry, and we are confident that he will continue to lead our company in fulfilling our community vision and goals," said U-T San Diego Publisher Papa Doug Manchester. "He has experience in both the news and business sides, and in both print and digital formats. All the operating divisions of the company will now report up through Jeff."
Light, 54, came to the U-T after serving as vice president for interactive publishing at The Orange County Register. Since his arrival in San Diego, he has overseen various initiatives in the newsroom, both on the print and digital side. Light, who has an MBA degree from University of California Irvine and BA from Brown University, said he will emphasize more multimedia innovation and product development in his expanded role.
"The U-T has made huge strides in the last five years, both in terms of business success and the quality of our products," said Light. "I have confidence that we have an outstanding team in place to build on the great turnaround story at the U-T."
Light grew up in Buffalo, N.Y., where his father was editor of the local newspaper. Over the past three decades, he has worked for newspapers and their websites in various capacities. He has been an editor, a reporter, a clerk, even a "hopper" – the person who throws bundles of papers from the delivery trucks in the dead of night. He believes that journalism is one of society's greatest callings. That is to say, it is one of the best things a person can do with his or her life.
Two of Light's first initiatives as president and COO were the promotion of Phyllis Pfeiffer as U-T San Diego's president of U-T Community Press and the promotion of A1 editor Lora Cicalo to managing editor. Pfeiffer previously served as vice president and general manager of U-T Community Press, a group of nine community newspapers: the La Jolla Light, Rancho Santa Fe Review, Del Mar Times, Carmel Valley News, Solana Beach Sun, Poway News Chieftain, Rancho Bernardo News Journal, Ramona Sentinel and the new Encinitas Advocate.
"Phyllis is an important member of the executive team that steers not only the community papers, but all of our efforts," said Light. "Her industry credentials and personal character make Phyllis a person of rare insight and good judgment – precisely the sort of executive we need in the leadership of this company."
Cicalo will work closely with Light in managing the newsroom and continue to oversee production of the daily print editions.
"Lora will serve as a key partner in all newsroom decisions and the ultimate decision-maker whenever I am absent. She is an extraordinary journalist and one of the most admired people in our newsroom. I'm delighted to have her in this role," Light said.
###
ABOUT U-T SAN DIEGO
The San Diego Union-Tribune, LLC, owner of the 146-year-old U-T San Diego, is San Diego's leading media company and its most comprehensive source of news, entertainment and information in the region. Each week, products are delivered to more than 96 percent of all San Diego County households through its integrated media portfolio: the Pulitzer Prize-winning newspaper, U-T San Diego; the website, UTSanDiego.com; Sunday's Best; The Night + Day, DiscoverSD and DiscoverSD.com weekly entertainment guides; Spanish-language products Enlace and Vida Latina-San Diego; U-T TV, an Emmy award-winning on-demand video news source; and hyper-local community papers, U-T Community Press. For more information visit http://www.utsandiego.com.