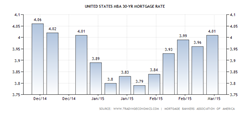 mortgage rates still remain below the historical average but time is running out
Chicago, IL (PRWEB) March 12, 2015
Lenders like Peoples Home Equity were disappointed to see that mortgage applications fell last week due to a rising interest rate environment.
As shown on March 11th by TradingEconomics.com, mortgage applications fell by -1.3% for the week ending on February 6th. This data announcement marked the 5th negative change in the past 7 weeks. However, the 4 week average for home loan applications did decline from -6.4% to just -4.47%. This increase of a larger negative number to a smaller negative number highlights the fact the mortgage demand is growing are we move into spring when housing activity starts ramping up.
Prospective mortgage applicants should take note that rates are rising, they will be probably continue to increase due to expectations of Fed policy. The Federal Reserve is expected to raise its key short term lending rate by at least 0.25% in June; this will instantly cause lenders across the nation to raise their rates for home loans. Rates are also expected to increase based on higher seasonal demand for loans/housing in spring and summer. To avoid the headache of floating or locking in a mortgage rate down the road in a rise interest rate environment, it's better to just lock in a competitive rate now.
TradingEconomics.com shows th e average rate on a 30-year fixed loan has increased steadily since late January from 3.79% to 3.93% to 3.99% to 3.96% to now 4.01%. 4.01% is the highest average 30-year fix rate observed in 2015. Peoples Home Equity reminds readers that mortgage rates still remain below the historical average but time is running out. Prospective applicants must act now before rates increase overnight based on Fed policy.
If in need of a mortgage, contact a Peoples Home Equity loan officer today at: 262-563-4026