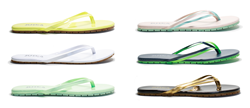 The company expects the main customers to be just about anyone who enjoys wearing flip-flops, but doesn't enjoy slipping and falling.
Los Angeles, California (PRWEB) March 16, 2015
Here's an idea for a flip-flop for this summer: a beautiful design combined with what no other flip-flop company has done before: patented non-slip technology on its outsole. Los Angeles-based company Rhea Footwear is integrating this patented and highest-rated non-slip outsole technology, which is primarily used in shoes for heavy-duty jobs and hospitals, with the sleekness of a flip-flop. By trimming the outsole, providing many bright outsole colors, and a beautiful overall design, anyone can wear it during this spring and summer.
Rhea Footwear says it uses a patented "micro-channel tread pattern" to push liquids away from the bottom of the sole to provide more sole-to-floor contact. The patented special rubber compound outsole then is able to achieve maximum friction against the surface. "Slip-and-fall accidents are not to be taken lightly. They are one the most dangerous yet overlooked accidents. They happen during the summer on all types of surfaces as well, not just during winter. They can also happen to young people as well as old people, and can cause serious health problems," says Rhea Footwear CEO Paul Ahn. According to the National Floor Safety Institute (NFSI), falls account for 8 million hospital emergency room visits. Today's flip-flops provide minimum to non-existent protection against slips-and-falls with their slippery outsoles. The company expects the main customers to be just about anyone who enjoys wearing flip-flops, but doesn't enjoy slipping and falling.
Rhea showcased its patented outsole technology and shoes at the Las Vegas FN Platform last year. "Attendees, buyers, and even other exhibitors were astonished and clueless at the same time about our outsole technology. People are literally astonished and speechless when they see our technology. This technology is currently non-existent in the flip-flop and sandals market," says Rhea Footwear CFO John Lee.
Rhea is launching its men's and women's sandals line, exactly one year after it successful launch of its classic men and women's line this April. The sandals will be offered for 30 days on Kickstarter starting in late March.
About Rhea Footwear:
Rhea Footwear was founded in 2013 by Paul Ahn, John Lee, and Dan Heo, who were friends from Cornell University. The three friends realized the need and importance of a non-slip outsole on regular shoes after spending four harsh snowy winters together in Ithaca, NY. Now located in Los Angeles, Rhea Footwear is dedicated to integrating technology with the best materials in coming up with unique shoes.
###