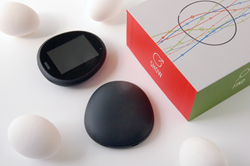 Of course, you always hope that your product will have support like this, but we were humbled and thrilled that we received so much support from the community, including some well-known names like Jaguar Land Rover, in such a short time frame
San Francisco, CA (PRWEB) March 12, 2015
With the help of a supportive and enthusiastic Kickstarter community, Eggcyte has taken a significant step in fulfilling its vision of giving everyone a personal web device. Eggcyte continued to rally support around the fresh idea of creating The Egg, a versatile handheld web server and storage device and, to extend beyond the consumer reach into the automotive, healthcare and education markets.
"Of course, you always hope that your product will have support like this, but we were humbled and thrilled that we received so much support from the community, including some well-known names like Jaguar Land Rover, in such a short time frame," said Thomas Martis, co-founder at Eggcyte. "This device represents a turning point in how we store and share special moments in our lives. It's great that so many share our vision."
The Egg is the first personal web device with a self-configuring web server that enables users to share videos, photos, music, or files without resorting to intrusive cloud-based services. It also seamlessly extends phone and other device storage so users will never run out of space when it's most needed. The Egg's built-in server capabilities allow users to take their Egg with them in the car and stream directly to any device, keeping passengers entertained.
After listening to the feedback and comments of the Kickstarter community during the campaign, the Eggcyte team developed a range of different product enhancements. This includes the addition of colored eggs, increased storage sizes and development of an iPhone and Android app that allows users to control and access The Egg from their mobile devices.
"We are grateful to the Kickstarter community and inspired by their engagement with the Eggcyte project," said Barry Solomon, co-founder of Eggcyte. "We've listened carefully to their ideas and incorporated much of their input into product enhancements. We're confident that the end result will be one that is aligned with the desires of the community and what we ourselves wanted to achieve with Eggcyte."
The Egg is a place where consumers can store their personal photos, videos, music and other files, control what they share, and control who they share it with thus maintaining privacy and control that is not available when using cloud services.
Based on the Intel® Atom®-platform, the Egg is equipped with a number of features that distinguish it from any other product on the market. Its unique shape is lightweight and rugged and small enough to fit in the palm of your hand. The device includes a personal website that lets users share their videos, photos and other private content without being tracked or scanned by the big cloud services, thus preserving the user's privacy. In addition, The Egg

Automatically imports photos, videos and other content from any device that has a USB port including iPhones, Android phones, SLR and GoPro cameras
Expands the storage of mobile devices with up to 256GB of additional flash memory
Can be accessed from anywhere via the on-board personal website - which resides completely on the Egg.
Can be accessed locally via its on-board Wi-Fi hotspot or USB cable.
Includes password protection for complete control of user privacy
Is easy to set up and manage with its self-configuration for easy internet access and its intuitive UI
Comes with IOS and Android apps that lets users seamlessly access their Egg from anywhere
Content can be seamlessly imported into The Egg using USB or Wi-Fi and stored in 64GB/128GB/256GB of onboard Flash. Users can leave The Egg plugged in and connected to Wi-Fi at home or carry it with them and connect to any available Wi-Fi access point at a coffee shop or airport. When unplugged and during normal operation, The Egg is expected to have 10–12 hours of battery life.
About Eggcyte:
Eggcyte is a startup, based in Chandler, AZ and San Francisco, CA, founded by a team of high tech professionals with a track record of delivering ground-breaking and disruptive consumer electronics products. Their flagship product, The Egg, is a personal web device that gives consumers the ability to store and share their personal photos, videos and other content without using traditional cloud services. To learn more about Eggcyte and The Egg, go to http://www.eggcyte.com
Intel and Intel Atom are trademarks or registered trademarks of Intel in the US and some other countries.