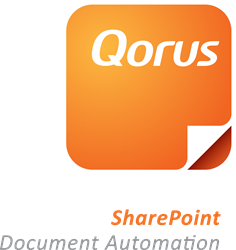 (PRWEB) March 16, 2015
Microsoft and Qorus Software are excited to be hosting an interactive networking session in Portland, Oregon on the 31st of March, 2015. Since inception Qorus Software has developed a strong alliance with Microsoft, and is now one of Microsoft's leading Gold Partners (Application Development) and a global provider of document automation solutions for Microsoft SharePoint and Office.
This event will touch on Microsoft's Cloud Vision and the solutions available within a SharePoint environment. You will learn more about Office 365 and SharePoint Online and have the opportunity to engage with key Microsoft executives such as Melissa Libhart, West Region Corporate Accounts Solutions Director at Microsoft and Bhushan Taravade, Evangelist for cloud-first & mobile-first for Microsoft Office 365 and SharePoint Online.
In addition, Ray Meiring CEO of Qorus Software, will share significant insights into the advantages of using SharePoint as a platform and delve deeper into the development of Qorus' document automation and proposal management tools.
Attendees include C-Level executives who will benefit from the opportunity to network with peers, discuss best practices and discover new ways to maximize their existing investments within SharePoint.
To find out more about this event, please contact Qorus Software Channel Director, Michelle Revsbech by emailing mrevsbech(at)qorusdocs(dot)com
For more about Qorus Software visit their website: http://www.qorusdocs.com/
To register for this event visit the events page here: http://pages.qorusdocs.com/microsoft-qorus-software-portland-event-feb-2015
***
About Qorus Software:
Qorus Software is a global provider of document and proposal automation solutions for Microsoft Office and SharePoint. We help organizations to significantly reduce costs, as well as the time and effort required to generate customized documents while improving the quality and accuracy of content. Our software also greatly reduces the potential for human error and formatting issues, improves the adherence to corporate guidelines, and consistency in branding and style, helping you to create great looking documents in a fraction of the time.
Qorus Software is a Microsoft Gold Partner (Application Development) whose clients span industries such as financial services, legal and professional services, telecommunications and Technology companies, and has offices in the United States, United Kingdom and South Africa.
Generate better documents faster! Visit our website to schedule a demo or contact us for more information.
For more information:
Senior VP of Marketing
hthompson(at)qorusdocs(dot)com
For more information on partnering with Qorus Software:
Channel Director
mrevsbech(at)qorusdocs(dot)com