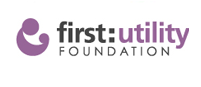 "Through the 1% profit donation, we hope to make a real difference to vulnerable families across the UK and look forward to receiving applications for funding." - John Roberts, Chairman, First Utility Foundation
London, UK (PRWEB UK) 12 March 2015
The First Utility Foundation was created as part of First Utility's wider community engagement programme and aims to make life better for vulnerable families and individuals across the UK. It is funded initially by annual 1% profit pledge from First Utility with an initial £100,000 seeded in the first year.
From today, charitable organisations seeking grants are encouraged to submit applications for funding to support:

Change the lives of the UK's most vulnerable families and children for the better
Improve the quality of life of older people
Make life better for people with disabilities
Speaking about the Board and grants, John Roberts, Chairman, First Utility Foundation said:
"I believe strongly that businesses have a responsibility to the wider society as well as their immediate customers and stakeholders, which is why I am delighted to sit as chairman of both First Utility and the Foundation. Through the 1% profit donation, we hope to make a real difference to vulnerable families across the UK and look forward to receiving applications for funding."
The First Utility Foundation Board of Trustees are confirmed as:
Dr John Roberts CBE
John is Non-Executive Chairman of Royal Bank of Canada (Europe) Limited and Chairman of the Halite Energy Group Limited, Electricity Northwest and First Utility Limited. From 1999 to 2006 he was Chief Executive of United Utilities plc, having previously been Chief Executive of Manweb plc and then Hyder Utilities.
From 1998 to 2002 John was a member of the Royal Commission on Environmental Pollution. He is a Fellow of the Royal Academy of Engineering, the Institution of Engineering and Technology and the Association of Chartered Certified Accountants. He holds a degree in Electrical Engineering from the University of Liverpool and is also a Certified Accountant. John was awarded the CBE in 2005. John has also been a Trustee of the Ecofin Foundation since 2009; he took on the role of Chair in 2013.
Fiona Dawe CBE FRSA
Fiona has worked in a wide variety of voluntary sector organisations over the last thirty years, eleven of which as Chief Executive of YouthNet, the UK's first not-for-profit dot.com. Youthnet runs TheSite.org, the award-winning guide to life for 16- to 25-year-olds and, until the end of 2013, the National Volunteering Database, called Do-it.
During the course of her career, she has served on a wide variety of boards and advisory groups and is currently a trustee of Windsor Leadership and the Technology Trust. She is an adviser to the Paul Hamlyn Foundation Social Justice Committee and a committee member of the Queen's Award for Voluntary Service. She also chairs the School for CEOs' Foundation.
She won the CBE for services to volunteering in the New Year's Honours List 2012 and the OBE for services to the voluntary sector in 2003 and was also the winner of Charity Times "Outstanding Individual Achievement Award 2010".
Dr Anthony White MBE
Dr. Anthony White has worked in the utility and finance sectors since leaving Oxford University with a Doctorate in Physics in 1977. His professional interests include the valuation of generating assets in liberalized power markets, the evolution of energy markets in a carbon constrained world and the development of network regulation.
He left Climate Change Capital, a bank he and four others established in 2003, but continues to provide advice to them, and others, through his company BW Energy Limited. He is a Non-Executive Director of the Crown Estate, Green Energy Options and 2OC. He is also a member of the British Government's Nuclear Liabilities Financing Assurance Board.
He also sits on the Advisory Boards of the Energy Institute and Sussex University's Energy Group. He is a Trustee of the Ecofin Foundation and was awarded an MBE in 2004 for services to UK energy policy.
Ed Kamm
Ed Kamm is responsible for the overall customer experience at First Utility, the UK's fastest growing independent energy supplier, bringing disruption and fresh thinking to the energy industry.
He joined First Utility in 2012. Ed has a strong and diverse background across eCommerce, customer experience, marketing, operations, and finance. Prior to First Utility, he was President at lastminute.com where he focused the organisation on its core proposition, markets and products whilst outsourcing non-core activities. Before that Ed was Chief Financial Officer and General Manager of Sales and Customer Care at Travelocity, where he helped drive the business turnaround and launched its Travelocity Guarantee programme.
He started his career in the US, moving to the UK in 2005 as a result of the Travelocity and lastminute.com merger.
Grants will be awarded to projects run by UK-registered charities which deliver support for vulnerable communities in the UK. Whilst the grant application must be submitted by the charity itself, First Utility customers are invited to recommend organisations for support through the web site http://www.First-Utility-Foundation.org.uk.
-ENDS-
About First Utility Foundation
The First Utility Foundation is an independent charitable organisation with a goal to improve the lives of vulnerable families and individuals across the UK. It receives an annual donation of 1% of profits from First Utility and awards grants to UK-registered charities.
About First Utility
First Utility is the UK's fastest growing and largest independent energy supplier. It supplies gas and electricity to more than 750,000 customers throughout the UK and is committed to helping them reduce their energy bills by offering cheaper tariffs, helping customers use less energy through the use of innovative technology and campaigning for industry change.