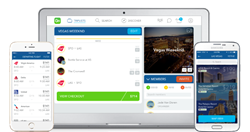 We're backing hopOn because we see an opportunity to reinvent travel booking for the social media and sharing economy generation
San Francisco, CA (PRWEB) March 12, 2015
hopOn, the simple and social way to book travel, today announced the public launch of its travel booking service and the close of a seed round of $750,000 led by New Enterprise Associates (NEA).
hopOn lets users book flights from 400+ airlines, choose from 170,000+ hotels, and share travel expenses in a few clicks. Users create a triplist by saving flights, hotels, and shared expenses, then can share with their friends or colleagues, who get their own copy of the triplist to edit – for example if they are flying from a different city, or staying at the hotel for different dates. Everyone can book their flight, hotel and/or pay for group travel expenses in a few clicks.
"We're backing hopOn because we see an opportunity to reinvent travel booking for the social media and sharing economy generation," said Krishna "Kittu" Kolluri, general partner at NEA. "Anyone who travels for work or vacation knows that the experience of booking travel on a bunch of different sites and coordinating with a group of friends or colleagues can be greatly simplified."
"We are excited to open the service to consumers and small business," said Jade Van Doren, chief executive officer, hopOn, Inc. "We have been in beta for nine months with several hundred customers, learning from their travel patterns and needs, so we're confident that the service will be groundbreaking for a variety of traveler types."
hopOn has many exclusive features that most people have never seen while booking travel, like built-in chat and the ability to see the flight information and booking status of everyone on the trip. hopOn also enables social seat selection – meaning users can select seats next to their friends/colleagues that are on the same trip. hopOn makes traveling to the same place frequently a breeze, by allowing users to easily copy past trips – users can choose a new start date for a recurring business trip, re-price it, and book it in a few clicks.
"We have great small business features as well – including the ability for an admin to book travel for the entire team, while allowing colleagues to see trip details," said Doug Morgan, chief technology officer at hopOn. "Travel approvals can happen over chat, travel can be canceled in a single click, and much more."
About hopOn, Inc.
hopOn is reimagining online travel booking — social-first and mobile-first. Book flights from 400+ airlines, choose from 170,000+ hotels, and share travel expenses in a few clicks. hopOn makes discovering, planning and booking travel simple, whether you're traveling alone or with people, for vacation or a work trip. To learn more or to try it for yourself, visit hopOn.com or download the hopOn iOS app from the App Store.
About New Enterprise Associates
New Enterprise Associates, Inc. (NEA) is a global venture capital firm focused on helping entrepreneurs build transformational businesses across multiple stages, sectors and geographies. With approximately $13 billion in committed capital, NEA invests in technology and healthcare companies at all stages in a company's lifecycle, from seed stage through IPO. The firm's long track record of successful investing includes more than 195 portfolio company IPOs and more than 320 acquisitions. For additional information, visit http://www.nea.com.