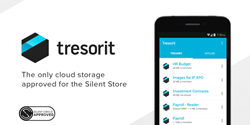 Tresorit provides the means for our customers to securely access cloud data from their Blackphones - Daniel Ford, D.Sc., Chief Security Officer, Silent Circle
Zurich, Switzerland (PRWEB) March 12, 2015
In the age of government-backed SIM card hacks, and crippling breaches at Anthem and Sony, smartphone users still struggle to find services that are both convenient and secure.
Silent Circle's new Silent Store for Blackphone could well be part of the solution. The app store reviews each app before its approval to make sure it meets Silent Circle's criteria for inclusion.
Tresorit is pleased to announce that its end-to-end encrypted cloud storage and sharing service is among the first to be offered in the Silent Store. Headquartered in Switzerland, Tresorit made headlines by challenging hackers to crack its security for $50,000 and weathering more than a 1,000 unsuccessful attacks.
For apps to be accepted into the Silent Store, they must be reviewed by Silent Circle for privacy and security practices. Each app's requested permissions are listed explicitly, so that users can download with confidence while exploring new apps and services. Tresorit is excited to offer its secure cloud storage services to Blackphone users, and shares Silent Circle's dedication to privacy without compromises.
"Accessing and, more importantly, consuming data in a secure manner is one of the most important aspects to mobile users. Tresorit provides the means for our customers to securely access cloud data from their Blackphones, which is imperative to the user experience", said Daniel Ford, D.Sc., Chief Security Officer of Silent Circle.
Istvan Lam, cryptographer and Tresorit's founder & CEO, says: "We're seeing rapidly growing demand from small and medium enterprises for the kind of security both Blackphone and Tresorit stand for. The launch of the Silent Store should be a rallying call to other developers. Step up your security game. Make it easier for businesses to collaborate securely from anywhere. It's good business."
About Tresorit:
Built from the ground up to withstand today's most sophisticated cyber-attacks and data leaks, Tresorit protects data stored and shared in the cloud.
Using patented encryption technology, Tresorit is answering the demand for modern collaboration solutions with built-in, end-to-end encryption. With its simple, easy to use interface, Tresorit is ideal for enterprises of all sizes who need compliance, control and confidentiality, as well as collaboration.
Tresorit is available for free on Windows, Mac, Android, iOS, Windows Phone and Blackberry. For more information, visit http://www.tresorit.com.
About Silent Circle:
Silent Circle is a leader in enterprise privacy, delivered through a revolutionary mobile ecosystem of devices, software and services, starting with ZRTP to build a fundamentally different mobile architecture.
Now led by Bill Conner, the former Entrust President and CEO and Nortel President, Silent Circle was co-founded by Mike Janke, former Navy SEAL and security expert; Phil Zimmermann, co-founder of PGP, developer of the ZRTP protocol and 2015 inductee into the Internet Hall of Fame; and Jon Callas, creator of Apple's whole disk encryption software and co-founder of PGP Corporation.
Silent Circle is headquartered in Switzerland, home to the world's best privacy laws. For more information on Silent Circle, go to: https://www.silentcircle.com