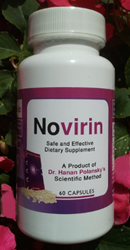 The designation given to the new treatment is yet another acknowledgement of the great need for breakthrough treatments for EBV caused diseased. - Greg Bennett, CBCD
Rochester, NY (PRWEB) March 13, 2015
"Infected with the Epstein Barr Virus (EBV)? The Center for the Biology of Chronic Disease (CBCD), which tested the formula of Novirin in two post-marketing clinical studies, recommends taking this natural antiviral supplement." – Greg Bennett, CBCD
A new treatment against EBV-linked Lymphoproliferative disorders (types of cancer that affect immune cells) has been granted a "Breakthrough Therapy Designation" by the FDA. Breakthrough therapy designation "is intended to expedite the development and review of drugs for serious or life-threatening conditions." (See the FDA, last updated March 10, 2015) (2) To qualify for this designation, "a drug must show credible evidence of a substantial improvement on a clinically significant endpoint over available therapies or over placebo if there is no available therapy, or in a study that compares the new treatment plus standard of care to the standard of care alone." (1) The new treatment was developed "through collaboration between Atara Biotherapeutics, Inc. and Memorial Sloan Kettering Cancer Center (MSKCC) in New York." (1) The new treatment is "for patients who have rituximab-refractory, Epstein-Barr virus-associated lymphoproliferative disease (EBV-LPD) following allogeneic hematopoietic cell transplantation (HCT)." (1) Allogeneic HCT is also commonly called a bone marrow transplant. In the context of EBV Lymphoproliferative disorder, the new treatment seeks out the cancer cells expressing EBV and destroys them.
The CDC notes that "Epstein Barr Virus (EBV), also known as human herpesvirus 4, is a member of the herpes virus family. It is one of the most common human viruses. EBV is found all over the world. Most people get infected with EBV at some point in their lives." (See the CDC, last reviewed on January 26, 2014) (3) The Center for the Biology of Chronic Disease (CBCD) recommends that in light of the medical evidence, and the cancer causing potential of EBV, that infected individuals take Novirin. The formula of this natural, antiviral supplement was designed to help the immune system target the latent EBV.
Click to learn more about EBV symptoms.
The formula of Novirin was tested by Hanan Polansky and Edan Itzkovitz from the CBCD in two clinical studies that followed FDA guidelines. The studies showed that the Novirin formula is effective against the herpes family of viruses. The Epstein Barr Virus (EBV) is a member of the herpes family. The clinical studies were published in the peer reviewed, medical journal Pharmacology & Pharmacy, the first, in a special edition on Advances in Antiviral Drugs. Study authors wrote that, "individuals infected with the EBV … reported a safe decrease in their symptoms following treatment with (the formula of Novirin)." (4) The study authors also wrote that, "We observed a statistically significant decrease in the severity, duration, and frequency of symptoms." (4)
Novirin can be ordered online on the product website, here: http://www.novirin.com.
Novirin is a natural antiviral dietary supplement. Its formula contains five natural ingredients: Selenium, Camellia Sinesis Extract, Quercetin, Cinnamomum Extract, and Licorice Extract. The first ingredient is a trace element, and the other four are plant extracts. Each ingredient and its dose was chosen through a scientific approach. Scientists at polyDNA, the company that invented and patented the formula, scanned thousands of scientific and medical papers published in various medical and scientific journals, and identified the safest and most effective natural ingredients against latent viruses. To date, Novirin is the only natural antiviral product on the market with published clinical studies that support its claims.
"Breakthrough therapy designation for EBV-CTL was based on data from two separate clinical trials of EBV-CTL conducted by MSKCC. Data from these studies have been submitted for presentation at an upcoming medical conference in 2015. Chair of the Department of Pediatrics and Chief of the Pediatric Bone Marrow Transplant Service at MSKCC, Richard J. O'Reilly, MD, said the receipt of breakthrough therapy designation brings the researchers one step closer to their ultimate goal of making EBV-CTL available to all patients with EBV-LPD." (1)
What treatments are available for EBV infections?
"A few antiviral drugs are available that were shown to inhibit EBV replication in cell culture. These drugs include the acyclic nucleoside analogues aciclovir, ganciclovir, penciclovir, and their respective prodrugs valaciclovir, valganciclovir and famciclovir, the acyclic nucleotide analogues cidofovir and adefovir, and the pyrophosphate analogue foscarnet. However, clinical studies have shown that these drugs are mostly ineffective in humans." (4) There are also natural antiviral products that studies show to be safe and effective in reducing EBV symptoms. Two of these products are Novirin and Gene-Eden-VIR.
"The designation given to the new treatment is yet another acknowledgement of the great need for breakthrough treatments for EBV caused diseased. Based on the results of these studies, and the CBCD's own research, we recommend that EBV infected individuals take Novirin." - Greg Bennett, CBCD
Click to learn more about Novirin and EBV.
References:
(1) Schieszer, J. "Breakthrough Therapy Designation for EBV-Associated Lymphoproliferative Disease After HCT." Published on March 4, 2015
http://www.oncotherapynetwork.com/hematologic-cancer-targets/breakthrough-therapy-designation-ebv-associated-lymphoproliferative-disease-after-hct
(2) FDA.gov - Frequently Asked Questions: Breakthrough Therapies. Last updated March 10, 2015.
http://www.fda.gov/regulatoryinformation/legislation/federalfooddrugandcosmeticactfdcact/significantamendmentstothefdcact/fdasia/ucm341027.htm
(3) CDC.com - About Epstein-Barr Virus (EBV). Last updated January 6, 2014. http://www.cdc.gov/epstein-barr/about-ebv.html
(4) Polansky, H. Itzkovitz, E. Gene-Eden-VIR Is Antiviral: Results of a Post Marketing Clinical Study. Published in September 2013.
http://www.scirp.org/journal/PaperInformation.aspx?PaperID=36101